How To Deal and Get Out Of Pain For Good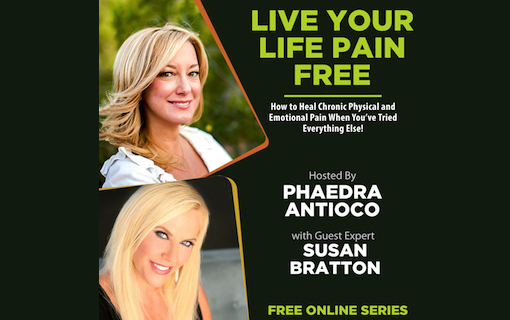 Nobody wants to experience pain.
We live our entire lives seeking pleasure, happiness, fulfillment, love, warmth…
And avoiding whatever kind of pain that comes our way.
Can you imagine living a life free from physical and emotional pain?
I'm not talking about being numb to sensation. I mean discovering simple, natural ways to assist your body, heart, and mind heal, recover, and rejuvenate.
I'm sure you'd love for that to happen.
That's why today I want to share an online event I feel is important for you and me. If you want to overcome chronic pain to finally start living the life you want.
I'm honored to be a part of this online event. And I'd be even more honored when you join me as I share my expertise on pain management and recovery.
My segment goes LIVE on June 22nd. Sign up and register for the FREE event ahead of time to secure your spot.
PAIN-FREE AND LOVING LIFE
This new online series brings 21 of the world's leading pain relief experts. And, as one of the featured 21 speakers, I can't wait to share my knowledge with you.
The summit will be hosted by Phaedra Antioco, founder of Pain Treatments That Work, who has healed her pain and helped over 11,000 people worldwide to overcome theirs.
Now she's on a mission to help you heal.
Whether you have physical or emotional pain, do whatever you can to attend this exclusive video series starting on June 21st.
⇐ Live Your Life Pain-Free: How to Heal Chronic Physical and Emotional Pain When You've Tried Everything Else
For ten days, you'll discover healing secrets to transform your life.  
What's more, you'll receive special free gifts from many of the speakers to boost your healing journey.
When you attend this special online event, you'll learn:
How to reduce the impact of emotional trauma on your health

What foods to avoid to heal inflammation

The secret of motivating yourself for long-lasting change

The best exercises to get your body moving without pain

Simple daily habits you can implement now to free your body from pain

The surprising effect of gut health on your healing journey

The natural way to release physical and emotional pain, so you can be pain-free (Yes, it's possible)

And much more…
Join me, and 21 other experts, as we share techniques, strategies and treatment options that can help you heal and live pain-free.