QUIZ: Are You At Risk For Unhappy Lady Bits?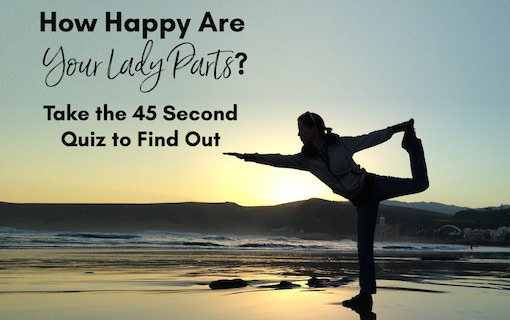 Are your "lady bits" happy?
That might seem like a silly question to ask, but it's actually super-serious.
So many women have issues "down there" like pain, pressure, leaking, prolapse, or weak orgasms…
And unfortunately, they go way too long before seeking help.
Which leads to unfortunate consequences.
It's no wonder that over 30 million women in America are suffering from pelvic issues like leaking, pressure, and pain with intimacy.
If you can relate, then here's something quick and proactive you can do to take care of yourself RIGHT NOW from my friend and colleague Isa Herrera, MSPT, CSCS, one of the leading experts in women's pelvic health in the world.  
⇐ How Healthy Are Your Lady Parts? (Takes Only 42 Seconds)
LOVE YOU TO BITS
Isa's healed over 14,704 women (and counting) suffering from pelvic pain, leaking, organ prolapse, and discomfort during intimacy, so she knows exactly how to identify the warning signs to test your lady parts.
Her online quiz gives you not just personalized results, you'll also get awesome tips on caring for and protecting what Isa calls "your most precious source of life, pleasure, and feminine power."
You'll also receive a free ticket to Isa's masterclass training "5 Steps To Happier Lady Parts" where Isa will go deeper into the quiz results and what it means and how to recover from (or prevent) pelvic health problems.