How To Awaken A 20-Year Dormant Intimacy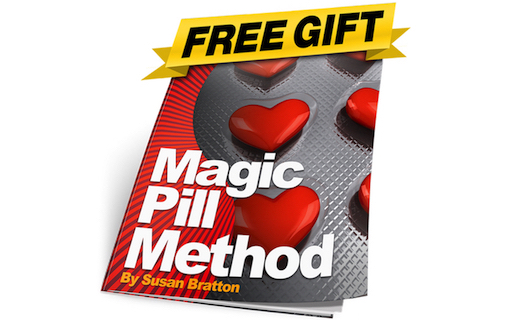 What if I gave you a "magic pill" that can fix anything from vaginal pain to betrayal? 
I'm giving away my NEW book right now to launch my zero-cost Sexual Vitality Summit online video series. I gathered 28 experts on brand new treatments and solutions for all kinds of chronic sexual health issues as well as lingering emotional traumas. 
What singles and couples need is a structure for talking about solutions and compromises. Ignoring the issues or believing they are unsolvable gets people STUCK. 
Forest for the trees… When you're in it you can't see the way out. But I can show you the path to passion.
That's why I created The Magic Pill Method for the problems that drive a wedge between partners: 
Download The Magic Pill Method Here For FREE ⇐ Maintain Or Regain Your Sexual Vitality In 3 Easy Steps 
SIMPLE, QUICK, AND EASY 
✅ "First and foremost I am morbidly obese. I haven't seen my penis for years. It was small to begin with (both length and girth) and with all the fat competing, my poor Vienna sausage can't catch a break. 
Second, I am very low testosterone, so my hormones aren't on my side. I often have trouble getting and maintaining an erection. Lastly, my wife and I have "celebrated" 38 years, but we haven't had sex in nearly 20 of those years."
✅ "I have never had a girlfriend or been kissed in my life. I was abused as a 5 or 6-year old. If I see a cute girl and say anything about her, everyone tells me, 'Oh you don't want that leftover stuff.' I have been afraid of girls all my life."
✅ "In the 8 years we have been married we've never had intercourse because my wife's vagina is too narrow."
Are you noticing how long these issues plague people? Twenty years without lovemaking… Abuse at 5 years old… Six years since cancer… 
The common thread is that when a person with issues hits the "wall," they struggle to re-engage in physical intimacy. 
Sex becomes painful, disappointing, or embarrassing because it's not the way it used to be or not the way they believe it should be. 
They stop talking or dating. Isolation happens. 
Lack of intimacy becomes unmentionable. 
Couples drift apart. 
Partners get bitter. 
You age too soon. 
Life is less worth living. 
But NOT for you. No way!
✅ "No intercourse because he has irreversible ED.  I also am not sure if I want to be with him anymore.  He refuses to engage in anything truly intimate, and he's never given me an orgasm anyway."
✅ "I dry out and I have no orgasm – I get so close but nothing…"
✅ "My man has both ED and Peyronies issues, refuses to get the appropriate medical help, and is really boring in regards to sexual activity. Our sexual/intimate connection always takes the same formula, at the same time of day, in the same place and follows the same pattern. He drives me 'screwy' with boredom and frustration."
✅ "He cums too fast within 2 minutes and has no libido after that."
Every single one of these stories can be resolved once you give the person or couple the steps to fix their issue. There isn't a single person who can't have the passion and physical intimacy they deserve if they want it. There is ALWAYS a way! 
Having a rewarding sex life if you have physical and/or emotional issues may require: 
Some simple treatments about which you're currently

unaware

. 

Rethinking

what sex looks like in

your

bedroom. 

Learning some new

pleasuring

techniques. 

Using some fun sex

toys

and aides.

Rewiring your

mindset

.
Heck, orgasms are a great pain reliever!
The solutions are available for literally every single issue you'll read in this ebook and discussed on the Summit. Because no matter what your issues are, the solution — the "magic pill" — is a combination of willingness to fix what can be fixed and work around what cannot, learn a few new bedroom skills and focus on both partner's happiness.

Download The Magic Pill Method Here For FREE ⇐ Maintain Or Regain