Nasty Oral Techniques She Loves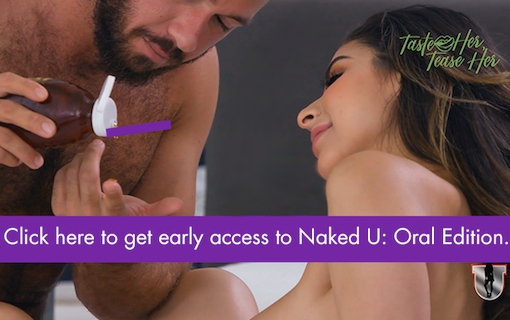 Do you want to make your woman squeal with joy whenever you even hint at taking off her panties?
The #1 way to do this is to make her anticipate an exciting, dreamy oral session.
If she doesn't want you to go down on her, it's because she's never had good oral! We can help with that. You can add some seriously sensual skills to your bedroom game and ask her to let you give her another go!
With the secrets you're about to discover today, oral sex with you becomes something your woman deeply looks forward to, day and night. 
My super-sexy clothes-hating girlfriend, Gabrielle Moore is at it again. She's gathered a whole new troupe of titillating sex teachers to show you their favorite techniques. 
⇐ Learn The Oral Sex Blueprint And Make Any Woman Come Wildly 
ORAL OBSESSION 
You should know that oral sex is way more than simply licking and kissing your lover's vagina. 
It's true that even "ok" oral sex can make a relationship better…
But if you can truly master this art…
Then your woman will be utterly at your beck and call… conspiring of new ways to please you… just so she can get more of that amazing oral action. 
You might be a little new to oral sex, or you might be pretty proud of your skills already.
Maybe you don't do it that often and aren't sure what all the fuss is about.
And maybe…just maybe… your woman won't even let you go down on her.
If that's the case it's even MORE important you watch this fresh new video by Gabrielle Moore and her team of hot sex teachers.
Because oral sex may just be the crown jewel for women… both in sexual satisfaction and for creating delightful intimacy with her partner.
Trust me, you don't want to miss out on what Gabrielle has in store for you in this naughty video.