Think Thin Free Summit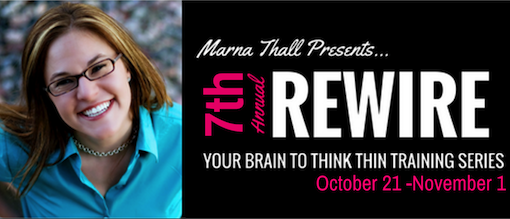 Have you always wondered…
Why you keep telling yourself that today's going to be different, only to keep repeating your overeating behaviors… 
What mindset shifts you need to make in order to slim down… 
How you can make slimming down easier and more automatic? 
You're not alone. That's why my good friend, Marna Thrall has decided to find easy, simple, and powerful weight loss solutions that actually work. 
And what better way to do that than to gather some of the best minds in the health and wellness industry to talk about this very topic. 
She's bringing together these experts in one online gathering called the "Rewire Your Brain To Think Thin" summit. And you can watch all the interviews for FREE here. 
Definitely listen to JJ Virgin, Dan Pompa Cassie Bjork, Tom O'Bryan and Debi Silber (and me!). I know all of these experts personally and they are experts of the highest quality.
⇐ Rewire Your Brain To Think Thin (I'm One Of The Speakers!) 
IT'S ALL IN THE MIND 
I can't wait to train you to see faster and better body results, and I want you there!
This two-week training series is 100% content, 100% free, and it's entirely focused on giving you strategies, tools, and training focused on helping you to rewire your brain to think, eat and live thin.
Listen, you and I both know that slimming down is mostly a mindset journey….
And that's exactly how we're going to solve the mysterious problem. You'll discover how to rewire your mindset so you can live a healthy lifestyle that promotes safe and effective weight loss —on autopilot!