Be Free From Painful Sex and Bladder Control Issues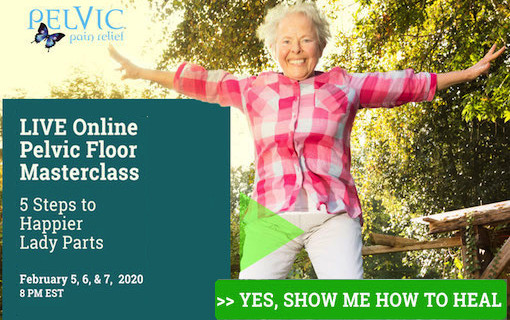 I've received many emails from women about vaginal pain, discomfort, and other issues. 
It's so common, it's troubling. Here are some snippets of their emails. The names have been changed for their privacy. 
"My vagina is no longer tight. It's also painful for me. And my husband has a harder time climaxing because my vagina is loose." — Janice 

"I started with losing my libido then soon after sex became more painful each time. After a while, I was diagnosed with lichen sclerosis. I have got it most the way in remission but I still have a hard time mentally because it was painful for so long. And now I anticipate the pain which makes sex lifeless and boring because all I can think about is the pain. So now I feel no sensation at all when I have sex. But mentally my mind is going a hundred miles per hour remembering the bad times." — Layla 

"Mine is pain. Physical pain down there. Like skin is literally ripping apart and burning sensation." — Francia

"Vaginal dryness and pain. Delicate tissue post-menopause. Feeling like a lack of youth and fertility have left me invisible to men. LIbido is also depleted." — Laura 
Mind you, there's more. In fact, it's so common, I feel it's my duty to send you this email and tell you about my friend, Isa Herrera's LIVE Pelvic Alchemy Masterclass that's starting today, Feb 5th until the 8th. 
If you're a woman over 30, I urge you to join me and discover more about our universal female dilemma. 
⇐ FREE Masterclass for Women Suffering from Urine Leaks, Prolapse and Pelvic Pain (Ends on the 8th)
STOP THE PAIN THAT STOPS YOU 
There are lots of reasons why women find sex painful…
The reasons can be complex and involve the spirit and the mind. Sometimes, the reason is straightforward… your anatomy is not functioning properly.
If you have incontinence, pelvic/sexual pain, pelvic organ prolapse, weak orgasms, a feeling like you have to pee all the time or have a cesarean or hysterectomy scar or simply don't feel right in your lady parts, then I've got the answer that is going to help you feel whole and goddess-like again.
My friend and colleague Isa Herrera MSPT, CSCS is the foremost expert in the field of women's pelvic health and has helped over 14,704 women get back to feeling great, connecting with their partners and experiencing pain-free love-making.
I can't stress to you how much this would help you, the same way it's helped thousands of women already. 
Here are some more responses I received about women experiencing pelvic issues. 
"I actually have recurring bladder infections after I have intercourse. I'm 42 years old. Married for 23 years. Been with the same partner." Tiffany 

"Pain during initial penetration along with no libido at all, as well as fibromyalgia and chronic pain." — Rhonda 

"I suffer from vulvodynia which was only diagnosed two years ago, but I have it 10 years altogether.  Penetrative sex is very painful for me, even using Lidocaine, but I continue to have sex with my husband for intimacy.  I have tried everything but nothing works. My husband does not pressure me for sex. In fact, I think he would be happy to become celibate but I am not prepared to give up yet.  I am 61." — Sarah

"Since menopause, I feel as if my vagina has shrunk, and sometimes is very sore, making intercourse painful or impossible. I have not had children, which may be of some relevance. I also refused estrogen pessaries as I did not want to be putting artificial hormones in my body. I am 53. Thanks and good luck!" — Carla