Tori, Your New Trigasm Teacher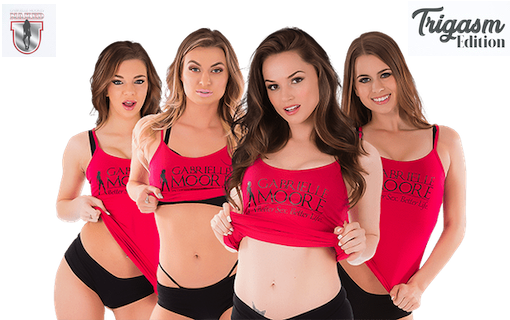 Let me introduce you to your new stripping orgasm teacher, Tori.
You're going to love her lesson. Why?
If you're new to Gabrielle Moore's classes, here's how it usually goes.
One of her hot teachers shows you how the techniques are done by stripping down to their bare bottoms.
If that isn't a good enough reason for you to watch her video right now… then I don't know what is.
SO HOT IN HER
Tori doesn't have a PhD, but she does have an insanely hot, curvy body.
You will see her body in just a minute as she can't wait to take her clothes off to teach you how to give your lover an incredible Trigasm.
Tori's specialty is "Penetration Trigasms"…
She loves a hard penis — like all of Gabrielle Moore's instructors, actually.
And she wants you to be ROCK HARD when you give your lover the best orgasm of her life.
As you already know, you can totally give your lover a Trigasm with your fingers, mouth, and toys, if you like…
But the positions that Tori has in store for you are best put to use with a rock-hard dick in the equation.

TORI, YOUR ORGASM TEACHER
Tori doesn't like teaching an empty room or a bored class.
So, here's what you have to do next:
1) You have to watch this video RIGHT NOW.
2) You have to actually use these techniques. Even if you can't do a full Trigasm quite yet, you have to start working these delicious positions into your sex play.
Your woman will appreciate it and she will probably find Tori pretty sexy too, but that's another thing…
The cool thing is Tori doesn't just teach, she strips.
Her whole teaching method is taking off her clothes while instructing you on the hottest sex techniques. That's Gabrielle Moore's trademark in sex evolution coaching.
So what are you waiting for?