5 Steps To Happier Lady Parts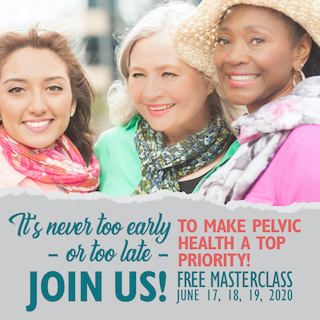 Stress can create tension in our deep core muscles and change how we hold our bodies to make pelvic symptoms worse. Below is a link to 5 easy steps to end leaking, heal prolapse, and relieve intimacy pain…
There's no denying we're in a stressful time.
(Understatement of the year, right?)
And for so many women with pelvic floor issues (leaking, prolapse, pain and discomfort, lack of orgasm, and more)…
They tell you, "Just relax and have a glass of wine!"
If hearing "just relax" makes you want to clench your fists and scream, it's because TRYING to relax has the opposite effect of making you MORE stressed!
It can be SO frustrating.
No one gets this more than my friend and colleague Isa Herrera, MSPT, CSCS.

⇐ 5 Easy Steps to End Leaking, Heal Prolapse, and Relieve Intimacy Pain In The Comfort of Your Own Home 
HEAL PROLAPSE
If you're a woman over 30 and at least ONE of the following is true:
You don't do kegels as regularly as you know you should
You're not 100% sure you're doing them right
If you have leaking, kegels don't really seem to help much
You have lower back pain, tailbone pain, or pain down there
You feel pressure in your vagina or you know you have a prolapse
Feel pain or discomfort during sex
You're sick and tired of doctors who don't know what to do for you
You're embarrassed and fed up and you've given up hope that anything will be able to help you…
If ANY of those is TRUE… you NEED to be at the Masterclass that Isa Herrera is hosting.
Isa is my go-to person for all things related to women's pelvic health because she is considered America's #1 Pelvic healer.
Tens of thousands of women who've attended call Isa's free training nothing short of life-changing.
And she's about to teach a BRAND-NEW Masterclass called:
Save your spot now for the free Masterclass!
THIS is the class you didn't know you needed right now.
While it might feel like there are bigger things going on, more and more women are beginning to understand that taking care of THEMSELVES and their health should be top priority.
There will be thousands of women on the Masterclass so go reserve your spot now!
Grab your spot now for the free Masterclass!
You'll want to stay to the end of the Masterclass because Isa will be doing one of her EPIC Q&A sessions.
She won't leave until EVERY question is answered, so come and ask Isa anything about vaginas, sex, pelvic pain, exercise, surgery, obstetric trauma, and so much more.