Joylux is having a year-ender SALE!
"VFit helped me feel sexy once again!"
One of my readers, Shelley, fixes the fishy smell from her vagina with the VFit.
The red light therapy of the VFit increases glycogen within the vagina, improving the pH. Check out her email and testimony on the Vfit below.
⇐ End-Of-The-Year SALE (Use Promo Code "BYE2022" — get up to $79 OFF on the Vfit Gold)
"Dear Susan,
After reading your second email about the VFit home vaginal restoration device a few weeks ago, I bought it primarily to tone my pelvic floor muscles. At 61, urge incontinence was becoming a real problem. And I'm far too young and sexy still for that crap!
I began using it, and after maybe the third use, my boyfriend and I had intercourse. For the first time in about two years, I didn't smell fishy "down there" afterward. And it wasn't a one-off – same with the following two times we made love.
I had changed nothing else, including my diet, so I knew it resulted from the VFit."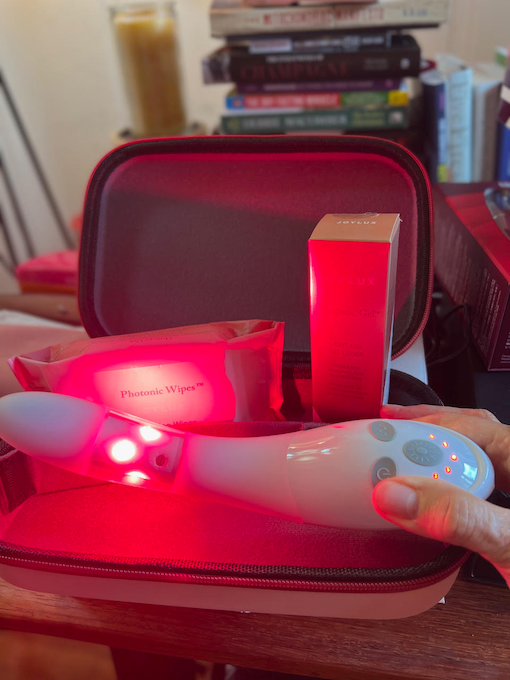 TIGHTENS AND RESTORES pH
"I was so thrilled with this unexpected benefit that I wrote to Joylux asking if the red light perhaps increased the good vaginal bacteria and reduced the bad (I'm a fan of red light and near-infrared therapy and have two units I use daily on my face and body). They wrote back right away and said that while it doesn't do that, it increases glycogen within the vagina and changes the pH. As I'm sure you likely know, postmenopausal women often experience pH changes within the vagina.
I had been to my OB/GYN's office several times to be tested for bacterial vaginosis because I was so embarrassed by this problem. It would be one thing if it were just me smelling it, but my partner could smell it all night under the covers and on himself until he showered the next day — so very embarrassing!
Each time, the doctor's office said everything was fine. It wasn't. I was also experiencing an abnormal amount of moisture, which you would think would be good, but it was a sign that something was not quite right. And my panties were frequently a bit wet from discharge. Between that and the leaking issue, I could see that pantiliners were in my future, and I was not very happy about it."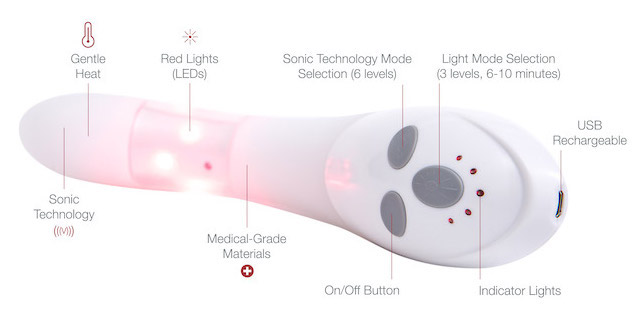 EASY TO OPERATE
"I am so thrilled with this unexpected benefit. In addition, 2 1/2 weeks in with my purchase, I am already seeing an improvement with urge incontinence and look forward to more improvement over the next several weeks.
I wrote back to the company and said that if my experience with pH alteration is common, perhaps they should consider using it in their marketing materials. I had waffled back and forth for some time before purchasing the VFit because of the expense but had I known that it could help with this, I would've bought it within a minute of reading your first email. I have researched the issue on the Internet and know many women suffer from it.
I just wanted you to know that my experience with the VFit has been an important way to turn back the clock and help me feel sexy again.
Thank you for what you do!
Shelley"
⇐ End-Of-The-Year SALE (Use Promo Code "BYE2022" — get up to $79 OFF on the Vfit Gold)