Summer Lovin' Giveaway!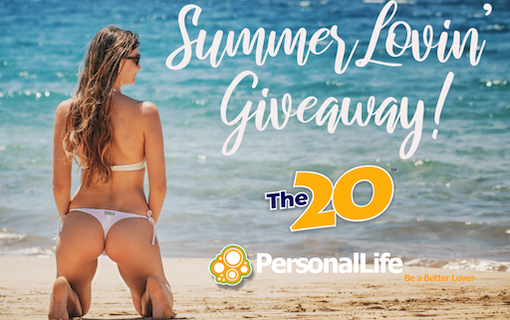 Every one of us at The20 and Personal Life Media wants to show our massive appreciation to all our readers, followers, fans, and customers. 
That's why we are GIVING AWAY a treasure trove of wonderful toys and treats. 
Over the next few weeks, I'll be sending you emails about amazing bedroom toys and wellness treats that YOU have a chance to win. 
You can join the giveaway for one, two, three, or even ALL of the gifts! Scroll down for the giveaway mechanics below. 
Here's how you can join the Summer Lovin' Gift Giveaway: 
Anyone can join. Regardless of where you live.
You can submit ONE entry to the GIFT/s of your choice. 
You can submit entries to more than one GIFT.
You can only get ONE gift out of all your submissions. 
Make sure to only join the giveaways for the gifts you want. 
There are 3 ways to join the Summer Lovin' Giveaway. 
Video Entries
Non-Video Entries
Amazon Review Entries
NOTE: I absolutely love it when my readers and fans send me videos, and you'll get my attention more with a video. However, my team will still go through all entries to pick all the winners. Everyone who joins has an equal shot at getting a gift. 
*Terms and conditions of Summer Lovin' Giveaway
Here Are All The Gifts Included In The Summer Lovin' Giveaway: