Sex Toy + Sex Swing (Valentine's Day Gift Guide 2021)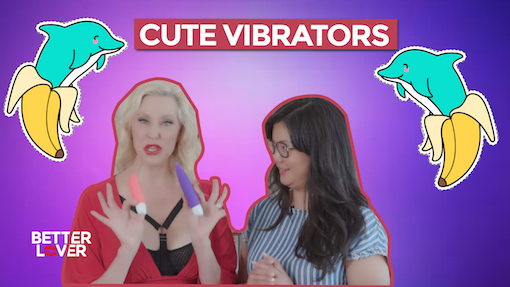 Painful sex sucks because it makes you not want to have any intimacy with your lover anymore. And lack of intimacy stems from a lot of problems. Here are the best sex toy gifts to help remedy that…
This is part 2 of my 2021 Valentine's Day Gift Guide. My sexy goody recommendations! Get them for yourself and give them to your lover, family, and friends. Click here for my complete 2021 Valentine's Day Gift Guide.
Today, I want to recommend 2 of my favorite sex toys.
They both go perfectly with the steamy, sexy Valentine's Day date you're planning for your lover coming up.
The first toy is a vibrator called Miss Bi. THIS is the vibrator I fell in love with on my 30-day Masturbation Challenge.
THE BEST SEX TOY GIFTS
The first toy is a vibrator called Miss Bi. THIS is the vibrator I fell in love with on my 30-day Masturbation Challenge.

are also great if you want a vaginal
thrusting
experience and not just a clitoral/vaginal vibrator experience.
The Miss and Lady Bi have two vibrators that support a woman in achieving orgasms from intercourse (vaginal orgasms).
Miss Bi and Lady Bi help train a woman to get better at having orgasms — especially penetration orgasms with a male partner.
Some people may think that when they use vibrators, they become reliant on them for achieving orgasms. Speaking from experience, you're not reducing your ability to orgasm; you're enhancing your orgasmic potential.
Also, the #1 thing most vagina-owners want is intercourse orgasms. And one of the weakest sex skills all genders report is using sex toys during lovemaking.
Let's fix both those issues with Miss Bi, Lady Bi, or Stronic G vibrator! The Stronic G is excellent for G-Spot and Female Ejaculation too.

PAINFUL SEX
Some women experience pain during sex.
Painful sex sucks because it makes you not want to have any intimacy with your lover anymore. And lack of intimacy stems from a lot of problems.
It's a smart idea for women to masturbate and open their vaginal canal with a pleasurable tool. When you have a masturbation practice, it increases blood flow (engorgement) and arousal. Better blood flow and engorgement help take the pain and sensitivity away and turn it into pleasure.
When a woman uses these toys a few times a week, or even daily, she will orgasm more easily. Her tissues will become softer, she will get more tumescence, she'll have more pleasure, she'll relax more, and her orgasmic sensitivity and ability will increase.
I like to masturbate alone in bed in the morning after Tim gets up. I prefer to masturbate privately. If you're a woman, do what makes you feel most comfortable. Lock the door. Turn on the music. Make yourself comfortable and take a little time.
⇐ Check Out The Best Sex Toy Gifts  
More Recommended Gifts ⇐ The Complete 2021 Valentine's Day Gift Guide
FOR VALENTINE GIFT GIVING
Now for the second recommendation for today. It's the legendary and fabulous Sex Swing.
If you don't have a strong beam from which you can hang it, I also put the link to the chair stand we hung it from in the video studio for the shoot with April and Amy.
You can put a chair on that stand when you tuck away the sex swing in your closet when the kids are home.
Imagine all the steamy sex positions you can try out with this thing.
I did a video in which 2 of my girlfriends and I act out some sexy ideas in front of you.
We switched places and roles, laughed, giggled, and gyrated as we took turns swinging on the Sex Swing for you.
You will love the Sex Swing. It turns you into a teenager again as it brings back the zest into your sex life.
Watch The Video Where We Had Fun With The Sex Swing Here ⇐ Have Fun With This Swing. We All Did!
Click Here To Get The Swing For Yourself ⇐ Get It From My Amazon Store (The Best Sex Toy Gifts)
More Recommended Gifts ⇐ The Complete 2021 Valentine's Day Gift Guide