This is part 10 of my 2020 Holiday Gift Guide. My sexy goody recommendations! Get them for yourself and give them to your lover, family, and friends.
Today, I want to recommend two Red Light devices that will make your life even better and improve your overall health.

⇐ Put This On Your Head And Stimulate Lush Hair Growth
More Recommended Gifts ⇐ The Complete 2020 Holiday Gift Guide
The first device I recommend is called the Red Rush 360.
I've watched as my friend Dave Asprey used red light therapy to:
✔︎ Fight Aging
✔︎ Lose Fat
✔︎ Tighten Skin Tone
✔︎ Speed Heal
✔︎ Combat Inflammation
✔︎ Optimize Brain Function, and
✔ Increase energy levels.
There are over 3,000 peer-reviewed scientific studies on the benefits of red and near-infrared light.
Another recent study I found was that Red Light Therapy could improve declining eyesight.
All you have to do is look at the light.
A few minutes of looking into deep red light could have a dramatic effect in preventing eyesight decline as we age, according to a new study published in The Journals of Gerontology.
The light could augur a new era in which millions of people have access to painless home-based therapy. It would give them a new layer of protection against the natural aging processes that steal our eyes' sensitivity to light and the ability to distinguish colors.
"You don't need to use it for very long to start getting a strong result," said lead author Glen Jeffery, a neuroscience professor at University College London's Institute of Ophthalmology.
The science works, Jeffery said, because the light stimulates the health of mitochondria, which are like batteries in our cells.
And because mitochondria are implicated in a broad range of diseases, insights like these could lead to new treatments for Parkinson's and diabetes.
The manual that comes with the Red Rush 360 light gives you "treatment recipes." And there is an app for Android and iOS that gives you recipes for things like:
✔︎ Supermodel Skin
✔︎ Quick Energy Boost
✔︎ Peak Athletic Performance
✔︎ Workout Recovery
You get the app for free, and it even has a timer.
Depending on whether you're healing deep tissue or energizing your mitochondria, you'd sit closer if you want your skin to have a more youthful look.

More Recommended Gifts ⇐ The Complete 2020 Holiday Gift Guide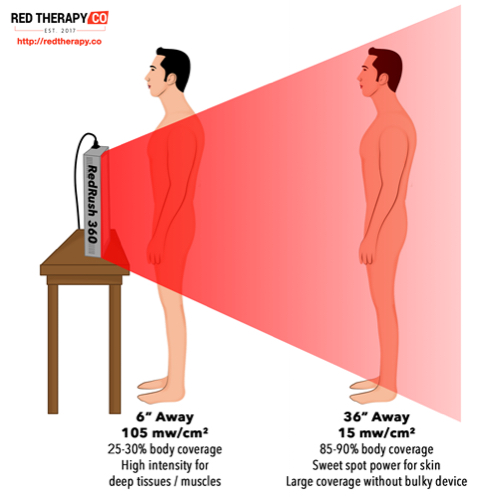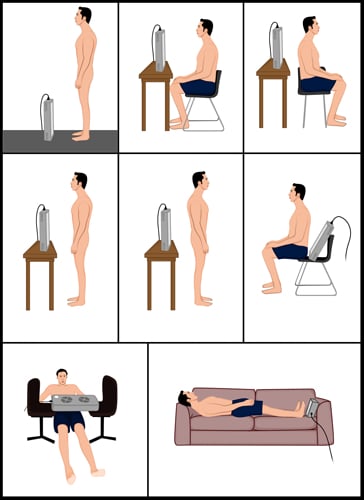 RED RUSH RED LIGHT
The second home Red Light device I recommend is the Capillus Red Light.
Unless you're one of the lucky people with evergreen hair growth, chances are you've considered (or already are) getting hair loss treatment.
Two-thirds of men will notice losing some hair by age 35. And when they reach 50, three out of four men experience significant thinning.
Now, it's not just for men. An estimated 40% of hair loss sufferers are women. And by the time they reach 50, almost half of all women will experience some hair loss.
However, is hair that important?
Well, it probably is for a lot of people — considering hair loss treatments are a 3.6 billion dollar industry.
Capillus is an intuitive solution that comes in the form of a "baseball cap" type of headwear with some fantastic technology.
Low-level laser therapy (LLLT) is based on the biological effects of photobiomodulation in living organisms and effectively stimulates and energizes the cells in the hair follicle.
LLLT increases cellular respiration and capillary blood flow to the skin's dermis, which helps slow down androgenetic alopecia progression and even regrows miniaturizing hair.
Light energy from lasers installed inside the cap stimulates unhealthy hair follicles and increases cell metabolism and blood flow to restore your hair to health.
The FDA has cleared this wonderful invention, and clinical results have shown 51% more hair growth in 17 weeks of use.
All you have to do is put it on your head for just 6 minutes a day, and you'll have significant results over the next few weeks.
If you want to know more about Capillus, and how it can give you the best hair days of your life…
⇐ Put This On Your Head And Stimulate Lush Hair Growth
More Recommended Gifts ⇐ The Complete 2020 Holiday Gift Guide