Gabrielle Moore's "anti-sexual distancing" program is now available for your eager hands. This is something you and your lover will enjoy, not just watching, but doing together too! Learn about ageless sex.
It's the last day for Gabrielle Moore's Naked U Great Sex Over 40 SALE.
That means this is your LAST CHANCE of getting your hands on a copy.
Remember, Naked U Season 2 is a physical product. That means there are only so many copies available for guys all over the world to order.
Yet, there's always the digital version if you're good with not having something to hold on to with your manly hands.
Either way, you will enjoy all the luscious teachers and their erotic techniques.
And, of course, all the hot love you'll make with your lover when you put these techniques to good use.
Day in and day out.
Now…
If you're even the slightest bit interested in watching super hot, gorgeous women strip down to teach you how to get good in bed…
AGELESS SEX
Even if you don't have a lover right now, this will be a BOMB program for you.
So when you DO get in touch with a new lover, you'll have your foundations and your sexual utility belt ready.
It won't be long either.
Women are romantically and sexually drawn to older men.
You see proof of this everywhere.
There are 60 or even 70-year-old dudes with a hot banging babe under their arm.
Following them around like a lost puppy.
That's because women long for men with experience, patience, and substance.
And, of course, the sexual control that dominates a woman's feminine energy gives her tantalizing pleasure.
You can hone your sex skills and master the new techniques Gabrielle Moore teaches you in her videos.
So when the opportunity comes along…
You're the lover she has been craving for all her life.
She'll feel like you're the one her body's been longing for, even if it's the first time you just met.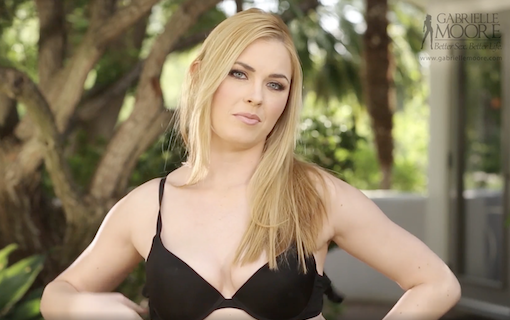 Here are the core programs in this super hot sex plan:
Stunning Rock Hard Erections
Completely Filling Your Woman Regardless of Penis Size
Being A Dominant Alpha Male in the Bedroom
Techniques For Long, Impressive Stamina
You've got to be crazy not to get Gabrielle Moore's Great Sex Over 40 sex plan in a heartbeat if you're a guy.
Just imagine it.
Hot, sexy ladies strip naked for you as they teach you the best sex techniques and positions known to humankind.
And this time around, the ladies are as stunning and more gorgeous than ever.