BREAKING: The Phoenix Him/Her devices now have a financing payment option available! Order yours today for as low as $179 for the first month…
The PhoenixHIM and PhoenixHER are the latest and greatest upgrades in the Phoenix PRO series of devices.
Besides the excellent blue and pink color, the PhoenixHIM and PhoenixHER offer unlimited treatments (Phoenix Pro taps out at 50 total treatments).
The devices can boast such exceptional capabilities because their internal components have been advanced and fortified. This means you get to enjoy more treatments throughout the years.
The PhoenixHIM and PhoenixHER are Acoustic Wave Therapy devices specifically designed for safe and effective use at home. Acoustic Wave Therapy sends powerful sound waves into the targeted tissue, causing micro-trauma to the blood vessels beneath the skin, fostering angiogenesis and the growth of new blood vessels.
Now, are they safe?
I've been recommending PhoenixPRO for some time now with zero negative feedback from my fans and followers.
These upgraded versions should be even better.
Hundreds of peer-reviewed medical studies have been conducted, and tens of thousands of patients have been treated with little to no side effects. However, checking with your primary care physician before starting any new therapeutic or health routine is always recommended.
Click Here To Check Out The PhoenixHIM ⇐ Acoustic Wave Therapy Device For MEN (Financing Now Available! Get Yours Today For As Low As $179/Month — PLUS You Can Use Promo Code "SUSAN" To Get $600 $700 OFF)
FOR HIM AND HER
Now, does it hurt? Does it have side effects? How does it feel when being used?
People have varying pain tolerance levels, and many can perform the treatment with little discomfort. For those more sensitive, they provide and recommend using a topical numbing cream, and a sample is included with purchasing your device.
The majority of PhoenixHIM and PhoenixHER users experience no pain at all.
Individual results vary depending on each patient's current erection/tumescence quality and underlying health conditions.
Most users start experiencing positive results after the first few treatments.
Once they complete the recommended protocol, anywhere from 6-12+ treatments, they will enjoy continued improvement up to 90 days after treatment is completed.
Now, here's what you have to keep in mind.
Acoustic wave therapy is only one piece of a comprehensive sexual health regimen.
Equally important are diet, exercise, healthy body mass index, and certainly hormone balancing.
And finally, you may be thinking. Can I be sexually active while using the PhoenixHIM and PhoenixHER devices?
There is no 'downtime' with Acoustic Wave Therapy.
You can be active right after a treatment. If you used a topical numbing cream, you might have to wait a few hours for the numbing effect to wear off so you can feel enhanced pleasure and sensitivity.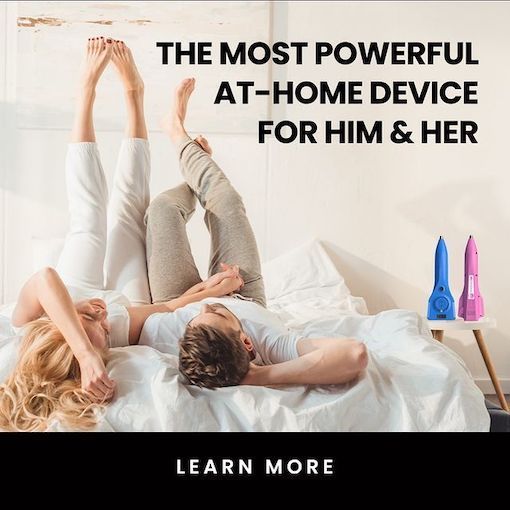 The PhoenixHIM Benefits:
Amplified blood flow
Enhanced rigidity
Better sensitivity and pleasure
Reduces penis refractory time
The PhoenixHER Benefits:
Amplified orgasms
Enhanced lubrication capability
Better sensitivity and arousal
Reduced stress and urinary incontinence
Check out their respective websites for video demonstrations and more reports for more information on these fantastic devices.