Polina Solda From Loneliness to Love Online Event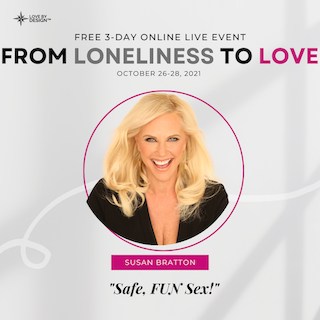 Why is it that most single women struggle in their search for love, and yet there are few women who find their soulmates?
If you're someone who's been single and dating for a while now, chances are you've met and dated all kinds of men… but your love life still hasn't taken off. Despite all the time, energy, and effort you put in, you feel like there's no progress.
And, if you can relate, you probably already know that quantity doesn't mean quality. The good news is that there's a different, better, and more effective way to approach dating so that you can find your soulmate and create your dream relationship.
If you've ever felt frustrated, overwhelmed, or discouraged in dating, chances are you've been thinking, "This is not working. There must be another way."
And if that's you, I'd love to invite you to a 3-day LIVE Online Summit "From Loneliness to Love" at no cost, hosted by my friend Polina Solda with 15+ leading dating and relationship expert guests (including me!)
SAY YES TO LOVE
By the time you finish attending this 3-day LIVE virtual training, you'll walk away with a set of proven strategies, tools, and tips for attracting your soulmate without wasting your time and energy on things that don't work.
Specifically, you'll learn how to:
Heal from past wounds and patterns
Date again in a safe, smart, and successful way
Attract and meet available, quality men
Recognize the red flags and make better choices
Avoid the biggest mistakes that keep women single
Feel more confident and secure in dating
And much, much more!
Unlike other LIVE online events, this is an interactive experience where you'll learn, ask questions, and connect with me and other experts in REAL-TIME.
If you can't attend it live, no worries. Register here and you'll get ALL of the replays and exclusive gifts at no cost.
We all deserve to have the most intimate, heart-connected relationship. But the path to get there isn't always so easy. That's why love experts are coming together on this 3-day Online Live Event called "From Loneliness To Love." I will speak at the event from 4 to 5 pm on Thursday the 28th all about having safe, fun sex in your current or future relationship. Don't miss this one.