What does a prosperous and healthy life look like? Read on to learn how to have a great sex life.
That's the BIG question for men in the 21st century.
What changes are needed to build his mind and body to develop and maintain health, strength, and vigor?
If you're a guy (or know a guy) interested in bettering himself and his sexual health, you're going to want to take a look at this.
A good friend of mine, Dr. Judson Brandeis, has written a NEW book that may change the way men in midlife and beyond can recover, rebuild, and maintain their physical, mental, emotional, and sexual health.
The book is "The 21st Century Man." It has contributions and advice from over 50 top doctors and Men's Health Experts.
STRONGER YOU
"Dr. Judd," as his patients fondly call him, is a practicing board-certified urologist at the Brandeis MD Male Rejuvenation Center.
Dr. Brandeis champions men's total sexual function, not just for urogenital health.
Judd knows more about penises and prostates than most any other doctor. As a physician-educator, he trains other doctors on the latest procedures for the full-functioning of the entire male urogenital system.
He has been voted top Urologist in the SF Bay Area for six years. As former Chief of Urology for the John Muir Hospital, Dr. Brandeis knows firsthand how the medical system does not orient toward prevention. That is one of the reasons he turned his focus to regenerative treatments and preventative supplements for men's most common issues: low testosterone, erectile dysfunction, premature ejaculation, and prostate problems.
At more than 900 pages, this is the life manual all men (and their partners) will want, helping men feel great, look good, and have better physical intimacy for the rest of their lives.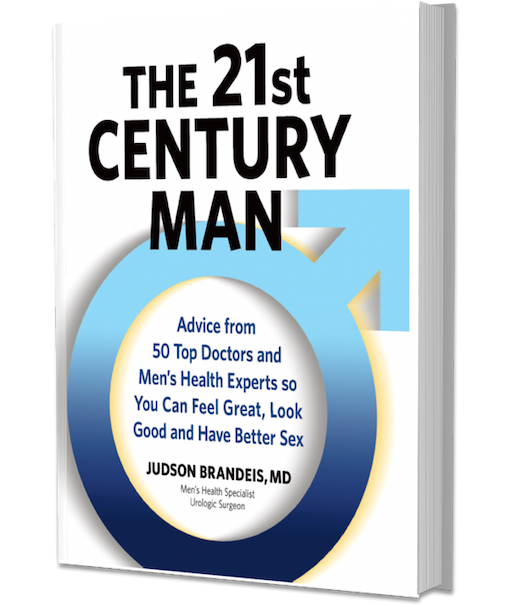 HOW TO HAVE A GREAT SEX LIFE
Contributors include experts and board-certified physicians sharing their insights in cardiology, oncology and cancer genetics, vascular health, urology, orthopedics, chiropractic, pain medicine, infectious disease, podiatry, hand surgery, sleep, and in the emerging fields of sexual health and rejuvenation medicine.
The book also provides leading-edge research on reversing early dementia and
protecting brain health and subjects, including family life, hormone therapy, psychology, and so much more.
In this book, you'll find a practical guide to men's health and discover:
The most common health causes of premature death in men and intelligent ways to reduce risks
Principles of nutrition and exercise and how to fuel and strengthen your body without injury
Coping with mental health struggles and addictive behavior to increase the quality of life
How to continue looking good through midlife and beyond
The impact of good relationship skills on men's health and overall wellbeing
Techniques and strategies to continue enjoying mutually satisfying physical intimacy
Specifics on prostate health, testosterone, circumcision, vasectomy, and fertility
How to navigate healthcare systems and understand the health insurance
An insider's view on finding a specialist and making the most of your trip to the doctor
The health effects of gratitude and how to leave a legacy that inspires the next generation