I want to send you my string bikini…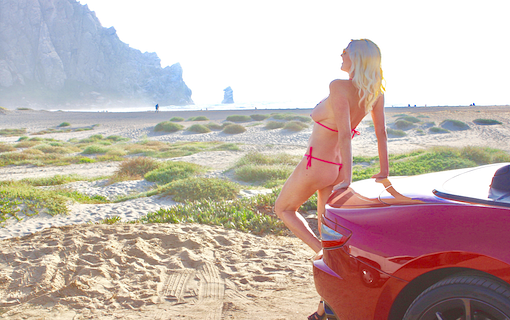 Read on to learn more about the string bikini.
"I think because of the tiny bikini she has accepted and come to love herself physically to the point that she planned a week-long vacation to Desire resort in Cancun in December."
I just had to download 28,794 photos from an old iCloud account. Oy! I noticed that I have a TON of pics of myself in sexy lingerie over the last seven years. It's almost laughable how many private photos of me I took with Tim. 
MY STRING BIKINI
I noticed that I don't look much different over the years. My "imperfections" are pretty consistent. And they don't matter at ALL! In retrospect, Tim and I have had so much fun with lingerie and bikini photoshoots together. He loves to take pics, and I've learned how to pose and enjoy myself.
Tim has convinced me that I'm beautiful and posing is fun and sexy. He's been highly encouraging.
We women seldom, if ever, realize how beautiful we are to our partners. We don't flaunt our bodies in self-empowering ways, are more often critical, and have the lights off during intimacy.
That is why I give away a free string bikini to men who want to encourage their women to enjoy their bodies and be sexy. Because Tim enheartened me by buying me lingerie and complimenting me over and over until I believed I was pretty to him.
His masculine sexual leadership made me feel more confident of my sexuality. I wanted to help more women enjoy posing and being sexy. So I found an adorable bikini that would fit almost every woman. And I shot the String Bikini Blueprint video to show men how to give their woman the bikini and encourage her to wear it around the house for fun.
Many women get the free string bikini, and you can get yours here. People love this silly little freebie. That's why I have about 100 in stock right now. All you pay is the shipping. It comes with the 5-Day Horny Window technique, which explains WHEN to give her the bikini and how to give it to her, so she has fun.
Click Here For A String Bikini Party ⇐ Free Video and How To Encourage Your Woman To Love Being Sexy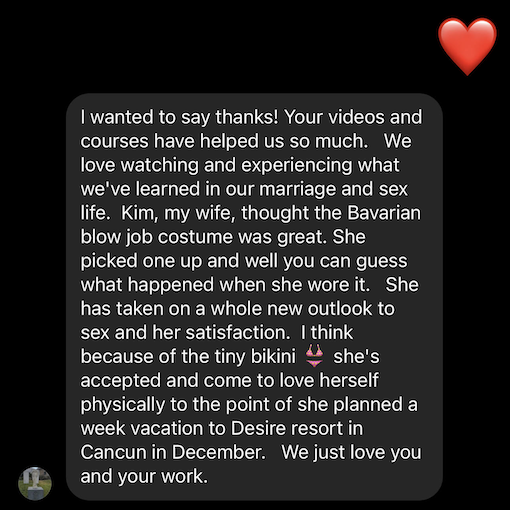 MAKING A DIFFERENCE
I give away this tiny shiny blue string bikini to teach guys how to make their women feel sexy. Women struggle with body image issues. I want to help women and the men who love them feel sexy at every age, size, and in every moment.
That's why I was so pleased to receive this DM on my Instagram.
I hope this opens up something for you.
Click Here For A String Bikini Party ⇐ Free Video and How To Encourage Your Woman To Love Being Sexy