What I Do To Get Radiant Skin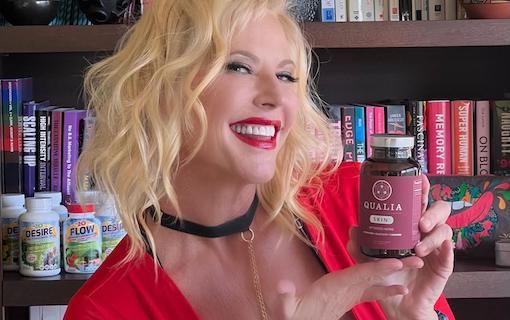 Most women address skin health the wrong way, and few men even pay any attention to their skin health.
My vanity drives me to pay a lot of attention to having soft, plump, beautiful skin. But I also know our skin is our biggest organ, a central axis in our body's immune system, and one of the keys to longevity.
Sunblock and moisturizers address skin health from the outside in. And for that, I rely on topical nut butter for my whole body and one insanely expensive topical with growth factors, peptides, botanicals, and matrix proteins.
But I also focus on skincare from the inside out, starting with eating healthy omega fats, my L Reuteri homemade yogurt, liquid hyaluronic acid (for my joints and skin), and the Qualia Skin supplement.
To transform your skin's health from the inside out, you need to discover the wonders of Qualia Skin.
SKIN RADIANCE
As we age, our bodies become less efficient at using the nutrition in our diet for skin health.
Therefore, to maintain youthful skin as we age, we need more specialized nutrition.
Specifically, we need to include ingredients in our diet that have very potent skin health benefits so our bodies can easily leverage what we eat to support our skin health.
We need the type of ingredients that support the following:
Collagen and skin remodeling
Elastin
Ceramide levels
Skin antioxidant and renewal defenses
Epidermal and dermal thickness
Blood flow and nutrient delivery
Qualia Skin is the supplement designed from the ground up to support all these facets of skin health.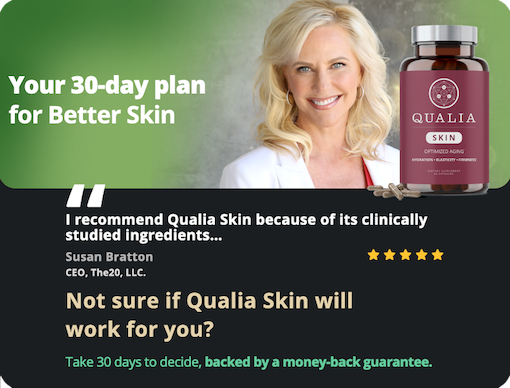 So what ingredients have these types of benefits, you ask? Here are a few examples:
HydroPeach™ Ceramides (Peach Fruit Extract): a clinically studied Japanese peach extract that enhances hydration, supports moisture retention and promotes smoother skin texture.

Red Orange Complex™ (Citrus sinensis Fruit Extract): a clinically studied citrus extract made from three varieties of Sicilian blood orange to support skin health before, during, and after exposure to environmental stress.
Aloe Vera Inner Juice Leaf Powder: an ingredient that supports skin hydration, elasticity, and smoothness by targeting the gut microbiome to transform skin health from the inside out.
But these ingredients are hard to find, let alone all together in one skin nutritional formula.
That is why Qualia Skin is amazing.
It has all 3 of these ingredients, but it also has 18 others, including staples of great skin nutrition like biotin, selenium, and copper.
Simply put, one serving of Qualia Skin does more to nutritionally support great skin than any product I have ever found. Bar none.
Twenty-one of the best skin health ingredients in one easy serving per day!
For people over 30, this is a dream product. If you're over 40, don't wait for another second to start supporting your skin health.
Get a bottle of Qualia Skin headed your way and try it. There's a money-back guarantee, a 50% discount, and an ADDITIONAL 15% off with my promo code.
I called Lauren over at Qualia and asked her to create this special offer for you, my ageless sexuality fans.