What I Do To Get Radiant Skin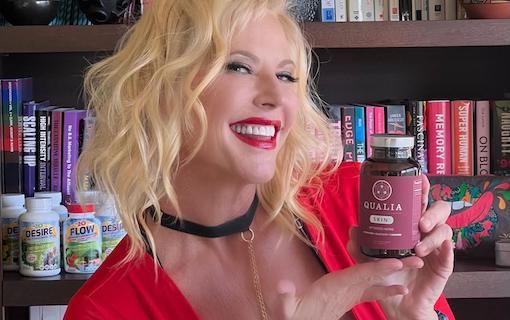 Read on to learn how to have healthy skin. I'll be honest. Aging skin has become a huge focus of mine…
…along with sexual rejuvenation, cognitive health, and overall vitality.
This led me to do research and interviews with just about every health expert and doctor I could find. The videos and interviews I've done over the years are a testament to that. 
One thing stood out in my research: most women address skin health the wrong way.
Sunblock, moisturizers, creams, and lotions all have their place. But do you notice something weird about them?
They're all trying to address skin health from the outside in.
To transform your skin's health from the inside out, you need to discover the wonders of Qualia Skin.
SKIN RADIANCE
I didn't even understand how a skin product could work this well until I researched the causes of aging skin.
Here's a key to understanding how aging skin creeps upon us.
When we're very young, our bodies are excellent at using nutrition in our diet for excellent skin health, even if that nutrition is mediocre.
But as we get older, our bodies become less efficient at using the nutrition in our diet for skin health.
Therefore, to maintain youthful skin as we age, we need more specialized nutrition than younger women.
Specifically, we need to include ingredients in our diet that have very potent skin health benefits, so our bodies have an easier time using our nutrition for skin health.*
We need the type of ingredients that support the following:
Collagen and skin remodeling.
Elastin.
Ceramide levels.
Skin antioxidant and renewal defenses.
Epidermal and dermal thickness.
Blood flow and nutrient delivery.
Qualia Skin is the result of nutritional formulators that care about these technical requirements of supporting the complete picture of skin health.*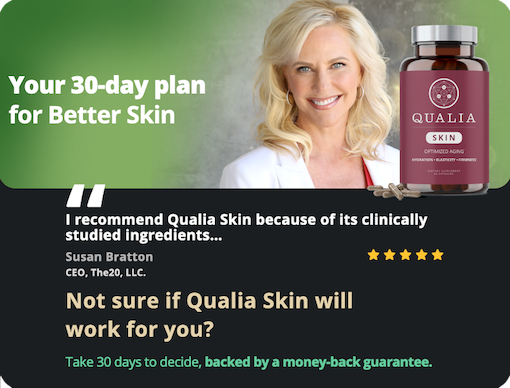 HOW TO HAVE HEALTHY SKIN
So what ingredients have these types of benefits, you ask? Here are a few examples:
HydroPeach™ Ceramides (Peach Fruit Extract): a clinically studied Japanese peach extract that enhances hydration, supports moisture retention, and promotes smoother skin texture*.

Red Orange Complex™ (Citrus sinensis Fruit Extract): a clinically studied citrus extract made from three varieties of Sicilian blood orange to support skin health before, during, and after exposure to environmental stress*.
Aloe Vera Inner Juice Leaf Powder: an ingredient that supports skin hydration, elasticity, and smoothness by targeting the gut microbiome to transform skin health from the inside out.*
But these ingredients are hard to find, let alone all together in one skin nutritional formula. 
That is why Qualia Skin is amazing.
It has all 3 of these ingredients, but it also has 18 others, including staples of great skin nutrition like biotin, selenium, and copper.
Simply put, one serving of Qualia Skin does more to nutritionally support great skin than any product I have ever found. Bar none.*†
Twenty-one of the best skin health ingredients in one easy serving per day!
For women over 30, this is a dream product.
Get a bottle of Qualia Skin headed your way, and be amazed by the difference made from the best skincare nutrition on earth.