Free Pre-Detox Guide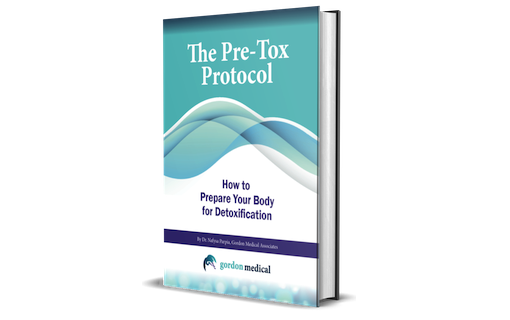 Detox here. Detox there. It's practically everywhere. Read on to learn more about detox pros and cons.
We all know how important it is to eliminate toxins from our bodies. And in some cases, our minds and emotions.
But what you don't hear often is how you should prepare your body BEFORE you do a detox. And this is equally as important.
During detoxes, your body dumps the toxins you've stored in your tissues. It enters your bloodstream as it exits the tissues, possibly inducing complications like rashes, body pain, body odor, mood swings, and even unusual sleeping patterns.
Following an intelligent pre-detox program can help mitigate and eliminate any adverse effects of a good detox.
PRE-DETOX CHECKLIST
As you sign up to download the book for FREE, you'll also be invited to join the Mycotoxins and Chronic Illness Summit, hosted by Nafysa Parpia, N.D., Eric Gordon, M.D., Christine Shaffner, N.D., and Dr. Jamie Kunkle.
Over 40 of the world's top experts discuss how mycotoxins may be the hidden cause of chronic illnesses and how to heal and reverse its devastating effects.
Mycotoxins are naturally-occurring toxins produced by certain types of mold. It can also be found in food. Mold illness is surprisingly common and often undetected until the late stages. There are ways to identify mycotoxin infection and clear the body of mold that gives you a new lease on life. These breakthroughs will be shared during the event.
DETOX PROS AND CONS
You'll also get some fantastic freebies from some of the event's speakers. These FREE books and guides include:
Detox Your Glymphatic System Guide by Christine Schaffner, N.D
Unlock Healing – The Role Of Your Lymphatics in Chronic Illness, Autoimmune Disease, Lyme, and Fatigue by Christine Schaffner, N.D
The Role of Interferences Fields in Healing Chronic Illness by Christine Schaffner, N.D
Break The Mold (Part 1) by Jill Crista
DIY Autoimmune Home Detox Book by Dr. Keesha Ewers
Detox Your Life Guide by Dr. Wendie Trubow
5G in 5 Minutes – Quick and Rational Guide on 5G Radiation by Nicolas Pineault
I've Been Exposed to Mold – Now What? by Jill Carnahan, M.D.
5 Ways Mold Exposure Damages The Gut and Its Microbiome by Kiran Krishnan
Life After Mold by Dr Lauren Tessier, N.D.​
The 7 Phases of Detoxification by Dr. Kevin Conners
Detoxification and Letting Go by Isaac Eliaz, MD
Infrared for Optimal Health by Robby Besner, PSc.D
Your Personal Health Map by Mark Su
One of the most critical things to do before detoxing is to drink water as often as you usually do. You can even add a squeeze of lemon or lime. You can also choose to drink herbal teas. This helps boost metabolism and jumpstart your digestion. Being well-hydrated also helps your mind function properly.
I do this when doing any form of a dietary, emotional, or spiritual detox.
Yet being well-hydrated is one of the many things you'll need for preparing your body and mind for good detoxification. 
To get a more detailed pre-detox guide, you'll want to download the book linked below.