Get LONGER Both Flaccid and Erect!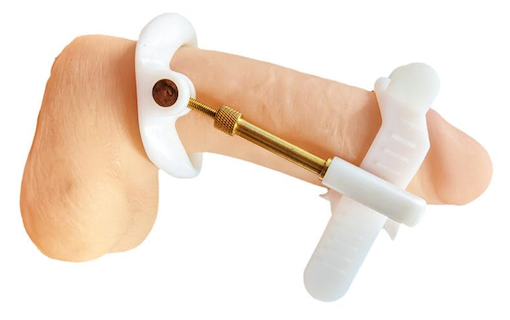 I'm thrilled to announce the new DEEP: The Ultimate Penile Extender device. You can use this WITH your Whopper penis pump to get even more length to your penis.
Do you know how braces use light traction to slowly straighten teeth? That is similar to how you can lengthen your penis with slight overstretching of your tissue to stimulate new cellular growth.
It's the safest way to add incremental length — even beyond what The Whopper can do. And The Whopper is the ONLY pump designed to increase girth AND LENGTH. Double down with this new accelerator to lengthen your penis even more.
DEEP: PENILE TRACTION DEVICE
You wear this traction device under your pants for as little as a half-hour a couple of times a week to gradually lengthen your penis, both flaccid and erect. You can work your way up to 6 half-hour sessions a week if you want to get long as fast as possible.
Your body has the ability to remodel itself with a medical-grade traction device like DEEP: The Ultimate Penile Extender.
Check out the order page here. You can read the research. Check out the testimonials. And learn more about how to use penile traction to make your penis EVEN BIGGER.
This is a medical-grade device without the medical price tag. You can use it in conjunction with The Whopper or just if you want more length and don't need any girth.
Comment below for any question. This is safer than weights and jelquing and you get substantiated results.
The best part about DEEP is that it's designed from the ground up to be the most comfortable traction device ever made.
Go check it out.
"The use of a novel penile traction therapy device results in significant improvements in objective and subjective penile length…" — Mayo Clinic
Published in the American Urology Association