Choosing The Right Sex Toy For You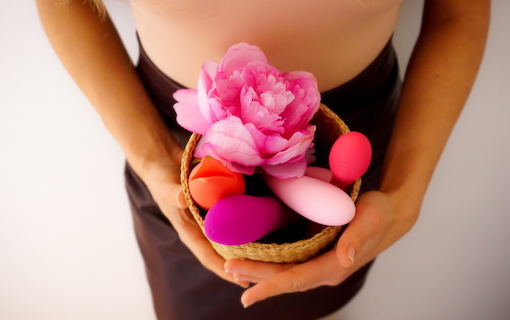 Read on to learn more about choosing a sex toy.
I wrote this for Bustle.com and thought you'd like to see it. I get asked this question as often by men for their wives and girlfriends as by women themselves. I'm glad to see men wanting to treat their women with sex toys. Encouraging women to masturbate and incorporating sex toys into lovemaking increases pleasure in myriad ways:
The more orgasms you have, the easier it is to come. Sex toys help you come more confidently and more often.
The more you self-pleasure, the more you want sex. Sex is good for you and increases your mental and physical health.
Incorporating sex toys into lovemaking increases overall orgasmic satisfaction. You get more orgasms, which makes sex even more pleasurable.
Sex toys don't "wear out your clitoris." You need to turn down the vibration to a lower setting if they do. 
You don't get dependent on sex toys to come. Sex toys expand your orgasmic capacity.
Using sex toys during partnered sex isn't "cheating." It's additive to the pleasure you can create through body parts.
Using different sex toys helps your body learn to come in more ways. There are toys for clitoral pleasuring, vaginal pleasuring, G-Spot pleasuring, anal pleasuring, etc.
 Choosing a sex toy for you. 
Should you invest in a more expensive sex toy?
Why or why not?
What advice do you have for people shopping for toys on a budget?
The only kind of sex toy in which to invest in a quality brand such as Fun Factory, WeVibe, Womanizer, or Hot Octopuss because that's the only way to ensure the materials used are non-toxic to your body. They will have motors and parts that last. The phthalates and plasticizers used in cheap sex toys introduce toxins that are hormone disrupters into your mucosal tissues. Moreover, these cheap materials can cause pain, itching, burning, weeping, and wounding to delicate genital tissues. It's best to purchase healthy toys from quality manufacturers. 
Look in your bedside drawer. Now look in your shoe closet. Which brings you more joy? A new tool for pleasure or another pair of shoes?
Every vulva owner should consider having five different kinds of toys:
1) A dual motor vibrator like the Lady Bi or Miss Bi by Fun Factory. This toy stimulates the external clitoris and the internal G-Spot and anterior fornix, bringing blood flow to the inner and outer vulva. Blood flow increases sensation and enhances orgasmic pleasure. Masturbating a couple of times a week improves your orgasmic function and makes partnered sex more pleasurable.
2) A G-Spot toy such as the Kurve by Hot Octopuss for awakening the urethral erectile system. We have three erectile systems in the vulva: the clitoral structure, the urethral structure (G-Area), and the perineal structure between the vagina and rectum. Stimulating the G-area or urethral sponge significantly enhances orgasmic pleasure and leads to the release of female ejaculation. All women can ejaculate, just like our male-bodied partners. Achieving this liquid bliss is a birthright we all have available. The Kurve has a very soft tip for G-Spot awakening and dual motors — a treble for an excellent buzzy feeling and a bass for a deep rumble.
3) A Womanizer clitoral stimulator uses airflow to suckle the clitoral glans and shaft. The Womanizer Duo is a dual vibrator that simultaneously pleasures the G-Spot with vibration while using airflow for clitoral pleasure.
4) A Wand from WeVibe for stimulating the outer vulva, including the labia majora and the mons. A large vibrator such as the Wand can deliver the most vibration available in sex toys and brings blood flow to the clitoral structure from all around the vaginal opening. Getting all this external tissue engorged increases the overall orgasmic pleasure for oral sex and erotic genital massage. 
5) A vibrating cock ring like the NŌS from Fun Factory can be used during intercourse or as a solo pleasuring vibrator for women with male partners. The little ears of this cock ring stimulate the clitoral shaft, not just the tip of the clit. Being able to grind into your partner's penis for deep thrusting, combined with the vibration of the external clitoris, is a pleasure-inducing combination for lovemaking.
The Atom Plus Lux by Hot Octopuss is a double vibrating cock ring that gives the woman pleasure on the top vibe and stimulates the man's perineum, sending waves of pleasure up inside to his P Spot or prostate for a blended orgasmic release. The Atom Plus Lux comes with a remote control so either partner can increase the speed or change the vibration patterns. This vibe is perfect for men who notice some sensation loss or difficulty achieving climax as they age. 
There is also the arena of sexual regenerative tools such as the Phoenix Black by GAINSWave that stimulate new tissue growth in the genitals. These tools reverse the atrophy of aging, so you continue to feel significant orgasmic pleasure as you age and have strong blood flow to your genitals. The VFit Gold from JoyLux is another sexual regenerative tool that uses photobiomodulation (red light therapy), warmth, and vibration for reversing incontinence, vaginal laxity, and loss of lubrication.
If you're on a budget, I recommend the Tango X bullet vibe from WeVibe as your single go-to vibrator. It's a potent, small vibrator that you can use for clitoral masturbation that is small enough to fit between you and a partner during intercourse for additional stimulation during sex. It's also small enough to deliver clitoral vibration while your partner goes down on you. And it's fun to lie back against your partner and have them pleasure your breasts while you masturbate with the Tango X.