Read on to learn more about shockwave therapy for erectile dysfunction.
Our friends and the creators of the Whopper Penis Pump are having a BIG 15% off SALE right now.
⇐ Dr. Joel Kaplan's Penis Pump Device (Paypal Credit Available)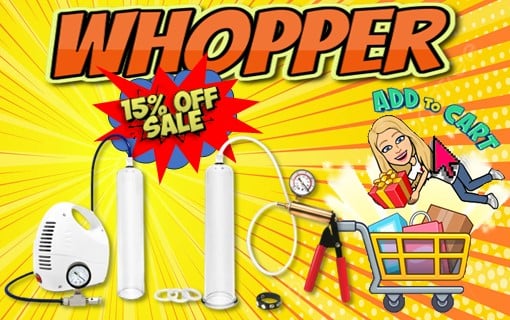 "Hi Susan, I hope you can clear up some confusion. I am in my early 50s and have ED precipitated by a venous leak. I have the Phoenix but unfortunately haven't been able to use it, nor will I for another couple of months due to shoulder surgery.

I was looking into Gainswave and the information you have sent, trying to locate a facility near me. Then I found some links to videos from doctors saying Gainswave isn't the best ED shockwave therapy because it uses radial instead of focused shockwaves. Is this true and accurate because it's hard enough to find Gainswave, let alone concentrated shockwave therapy? According to my research, the Storz shockwave device is the only one that uses focus.

Can you please help? 

P.S. If you know of or will be in the future having some more discounts on Gainswave, can you please let me know?" — Kyle (not his real name)
Venous leak is the most common kind of erectile dysfunction.
It's usually attributed to the arteries' hardening (calcification), which makes them brittle, so they can't lock the blood in to create a firm erection.
This indicates heart disease, so you need to get on top of your exercise and good nutrition now, Kyle. Are you tracking your heart and blood pressure metrics?
Your blood pressure* — targeting 120/70
Your body mass index percentage of body fat** — 18-25%
Your Heart Artery Calcium Store — should be close to zero
CRP — C Reactive Protein — a sign of inflammation — Under 1.0
Your Vitamin D levels — 50-70 ng/ml
Your Omega Fatty Acids Index 5.5%
Your total Cholesterol <200, HDL <40, LDL <140 and Triglycerides  <100
The good news is that you can use both radial and linear (also known as focused) shockwave devices for the penile vascular system while accelerating new tissue growth and repair.
GAINSWave is an "agnostic" treatment modality. 
It works with both types of machines. Here is a guide from GAINSWave on the most popular devices and whether they are radial or linear.
Add two FLOW capsules before GAINSWave or Phoenix treatments, before pumping, bed, and sex. This will boost your nitric oxide stores, improving healing and blood flow.
Get Up To 25% OFF On FLOW Here ⇐ Save By Getting A 6-Month Supply (For All Customers Worldwide)
Let me know where you end up going and how it all works. Thanks for taking care of yourself.