Read on to learn more about shockwave therapy for erectile dysfunction.
"Hi Susan, I hope you can clear up some confusion for me. I am in my early 50s and have ED precipitated by a venous leak. I have the Phoenix but unfortunately haven't been able to use it, nor will I for another couple of months due to shoulder surgery. 

Therefore, I was looking into Gainswave and the information you have sent, trying to locate a facility near me. Then I found some links to videos from doctors saying Gainswave isn't the best ED shockwave therapy because it uses radial instead of focused shockwaves. Is this true and accurate because it's hard enough to find Gainswave, let alone concentrated shockwave therapy? According to my research, the Storz shockwave device is the only one that uses focus.

Can you please help? 

P.S. If you know of or will be in the future having some more discounts on Gainswave, can you please let me know?" — Kyle (not his real name) 
Venous leak is the most common kind of erectile dysfunction. It's usually attributed to the arteries' hardening (calcification), which makes them brittle, so they can't lock the blood in to create a firm erection.
This indicates heart disease, so you need to get on top of your exercise and good nutrition now, Kyle. Are you tracking your heart and blood pressure metrics?
Blood pressure* — targeting 120/70
Body mass index percentage of body fat** — 18-25%
Heart Artery Calcium Store — should be close to zero
CRP — C Reactive Protein — a sign of inflammation — Under 1.0
Vitamin D levels — 50-70 ng/ml
Omega Fatty Acids Index 5.5%
Total Cholesterol <200, HDL <40, LDL <140 and Triglycerides  <100
The good news is that you can use both radial and linear (also known as focused) shockwave devices to remove atherosclerosis of the penile vascular system while accelerating new tissue growth and repair.
GAINSWave is an "agnostic" treatment modality. It works with both types of machines. Here is a guide from GAINSWave on the most popular devices and whether they are radial or linear.
You can use this location directory to find providers in your area and inquire about the machine they use if you prefer one or the other type of Radial (RSWT) Devices or Focused (FSWT) Devices:
⇐ Find GAINSWave Professionals Near You
(Shockwave Therapy for Erectile Dysfunction)
You can fill out the form and inquire about their technology. They will call you back. Use the promo code BETTER in the comments section. It's valuable for a free 7th treatment. When choosing providers, remind them of this code.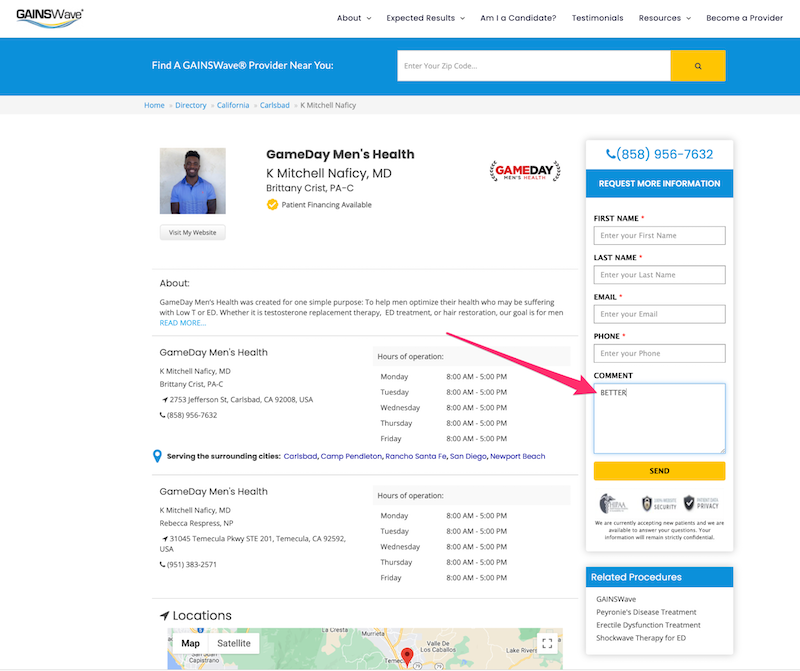 I'm glad you have the Phoenix because you can keep treating yourself after your GAINSWave therapy once your shoulder heals. The Phoenix and GAINSWave work synergistically. The GAINSWave is a more effective treatment because the machines cost $50,000 or more. But the Phoenix is great for doing it yourself at home or continuing to support the GAINSWave treatments you're getting.
⇐ DIY GAINSWave Alternative Home Treatment Device (Get $400 OFF With The Promo Code "BRATTON")
Are you also using a penis pump? The Whopper will help heal the GAINSWave and Phoenix treatments, improving your erection and giving you more length and girth.
You have likely atrophied if you haven't gotten night-time erections or morning wood. The pump can significantly restore and even improve the penile volume, and it is also synergistic with GAINSWave and the Phoenix.
Click Here To Download My UPDATED Pump Guide 2nd Edition ⇐ How To Pump For Enhancement, Enlargement, ED Reversal, and New Pumping Protocols Including the Penis Extender and Red Light Sleeve Plus How To Stack With Acoustic Wave and PRP (Shockwave Therapy for Erectile Dysfunction).
Add in two FLOW capsules before GAINSWave or Phoenix treatments, before pumping, bed, and sex. This will boost your nitric oxide stores, giving you better healing and blood flow.
Get Up To 25% OFF On FLOW Here ⇐ Save By Getting A 6 Month's Supply (For All Customers Worldwide)
Let me know where you end up going and how it all works. Thanks for taking care of yourself.