Total Weirdo or Brilliant Biohacker?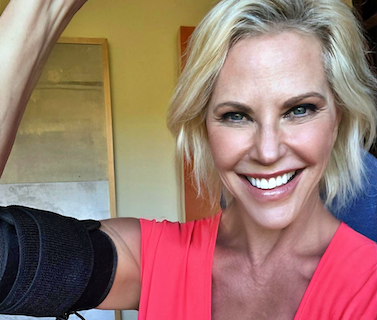 Here's a funny pic of me wearing the new
on my arm. This is the new red light therapy wrapper with which you can accessorize your Whopper penis pump.
I'm using it to tighten the skin on my upper arms after some significant weight loss.
Guys would use it to increase recovery speed after pumping with their vacuum erection device.
If I had balls, I'd also put them on them since studies have shown (see data at link below) that red light on testicles increases testosterone production and sperm motility for fertility.
STIMULATE YOUR CELLS
Red light is called photo-bio-modulation. These wavelengths stimulate the mitochondria in your cells. The mitochondria are the energy producers of your cells. When you shine the light on your skin, it penetrates your cells.
The 85 red light bulbs at 660 nm (nanometers) and 85 near-infrared light bulbs at 880 nm (nanometers) encourage your cells to restore new tissue and repair the microdamage from the vacuum pressure and aid in faster recovery. Using this STIMULATE sleeve on your pump translates to more rapid gains in enhancement (firmness) and enlargement (size).
Click Here To Download My UPDATED Pump Guide 2nd Edition ⇐ How To Pump For Enhancement, Enlargement, ED Reversal, and New Pumping Protocols, including the Penis Extender and Red Light Sleeve Plus How To Stack With Acoustic Wave and PRP.