Just as every single bottle of salad dressing in your grocery store contains harmful seed oils, thickeners, and chemicals, your toothpaste is now under scrutiny. Read about the Wellnesse toothpaste.
That's right. Your trusty old Crest or Colgate is chock full of not just crap chemicals but things that are destroying your teeth. Now what!
❌ Fluoride – Can lead to thyroid dysfunction, neurotoxicity, and dental and skeletal fluorosis. It is unsafe even in small quantities, but manufacturers are still pushing it.
The bacteria in your mouth create an acidic environment that strips off your tooth enamel. This is called demineralization. Instead of fluoride, it's better to use hydroxyapatite, the biomimetic compound that remineralizes your teeth to keep them strong and avoid cavities.
Fluoride makes your enamel wavy. Hydroxyapatite makes your enamel smooth, reflects the light better to make them whiter, and remineralizes your teeth to make them stronger.
The one I like best is from Wellnesse, my friend Seth and Katie Spear's company Wellness Mama. They have a charcoal whitening and regular whitening option and a lovely hefty travel-size tube.
Their cavity-correcting, Whitening Toothpaste contains Hydroxyapatite. The very same material your teeth are made of. It helps your teeth go through remineralization, stimulating growth in your teeth, repairing existing cavities, and avoiding new ones.
My friends over at Wellnesse are having a Special Oral Care Bundle SALE where you can get up to 29% OFF on their products. Then add my promo code "SUSAN" on checkout for an additional 15% OFF for more savings!
WELLNESS ON THE GO 
Instead of fluoride and harsh whitening compounds, Wellnesse uses all-natural green tea and hydroxyapatite.
This gives it a stark advantage over 99% of all kinds of toothpaste on the market.
Apart from hydroxyapatite and green tea, here's what else is in their toothpaste:
✅ Sorbitol – used as a binding agent. In tiny amounts.
✅ Xylitol – Non-fermentable, meaning the bacteria in the mouth cannot convert it into harmful acid that causes tooth decay and gum disease.
✅ Neem – Prevents tooth decay and gum disease.
✅ Aloe Vera – Eliminates disease-causing bacteria, helps whiten teeth, and reduces staining.
✅ Calcium Carbonate – Helps remove plaque, debris, and surface stains from your teeth.
When I discovered how many harmful chemicals are in our soaps, shampoos, and other personal hygiene products, I made it part of my mission to switch out everything possible to more wellness-focused products that help keep my physical and sexual vitality as strong as ever.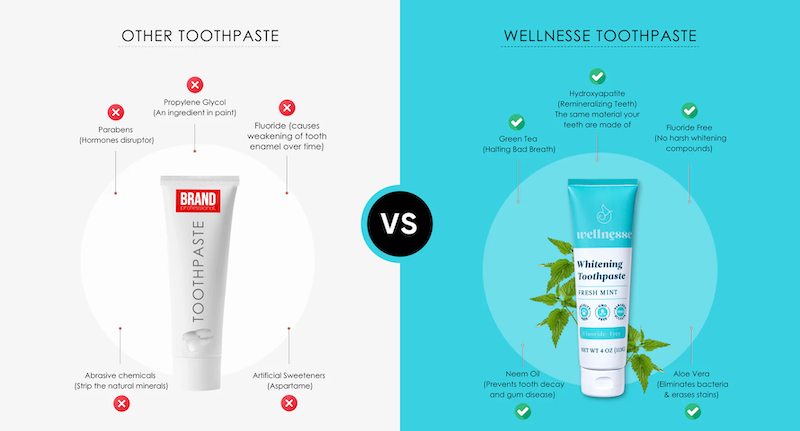 These are some other caustic, cancerous, dangerous crap ingredients lurking in your tubes:
❌ Triclosan – The United States Environmental Protection Agency (EPA) classifies triclosan as a pesticide, stating it poses a cancer risk to human health and the environment.
❌ Sodium Lauryl Sulfate – Can damage eyes, irritate skin and lead to labored breathing. According to the American College of Toxicology, sodium lauryl sulfate may stay within the body for up to five days, accumulating in the heart, liver, lungs, and brain.
❌ Propylene Glycol – Acts as a wetting agent and surfactant in toothpaste. The Material Safety Data Sheets for propylene glycol warn that the chemical can be rapidly absorbed through the skin, with prolonged contact leading to brain, liver, and kidney abnormalities.
❌ DEA – Consumers find diethanolamine, or DEA, in foam products, including toothpaste. DEA disrupts hormones and forms cancer-causing nitrates. According to Dr. Samuel Epstein, professor of environmental health at the University of Illinois, repeated skin exposure to DEA can lead to an increased risk of liver and kidney cancers.
❌ Glycerin – Can coat teeth with a light film. Stops the process of mineralization.
❌ Titanium Dioxide – It can irritate the nose and throat and is considered carcinogenic.
❌ Carrageenan – Can cause intestinal issues and become carcinogenic.
Wellnesse has none of the aforementioned shoddy chemicals.

I recently interviewed the famous dentist, Dr. Mark Burhenne @askthedentist, for the upcoming GAINSWave Men's Optimization Summit. I asked him about hydroxyapatite to ensure I was giving you the right advice. And yes, Wellnesse is an excellent brand. So go for it.
⇐ Add This Wellnesse Oral Care Set To Your Routine

(Get An Additional 15% OFF On Top Of The SALE With Promo Code "SUSAN")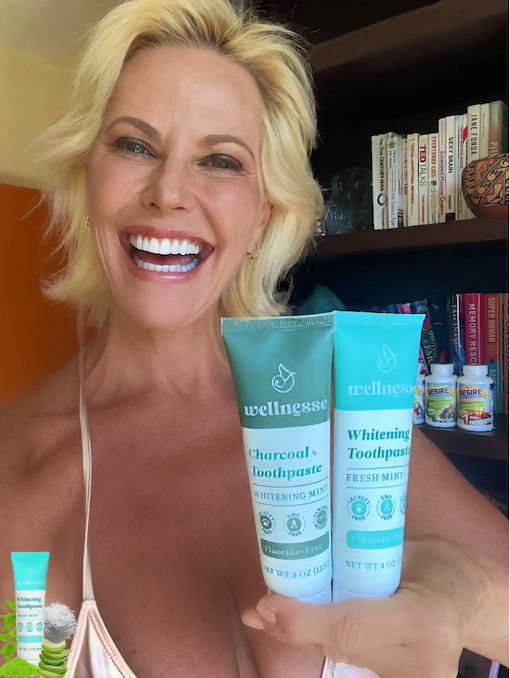 Recent studies show that too much fluoride exposure may increase cancer risk and impair brain development. .
Here are some studies I've found that talk about this.
Developmental fluoride neurotoxicity: an updated review
Association between water fluoride and the level of children's intelligence: a dose-response meta-analysis
Fluoride exposure from infant formula and child IQ in a Canadian birth cohort
⇐ Add This Wellnesse Oral Care Set To Your Routine

(Get An Additional 15% OFF On Top Of The SALE With Promo Code "SUSAN")