Sixty people spanning ages from their 20s-70s were in a room together, stark naked, getting over themselves and connected.
Our best-selling Steamy Sex Ed® Video Collection will be at 60% OFF on September 1st for a perfect Sizzling Summertime Sexcapade! We will only have 500 copies available. So VIPs get the first chance at the sale price with no obligation to purchase. Click this link:
Click Here to get on the Steamy Sex Ed® Video Collection 60% OFF Sale VIP List.
"Hi, Susan.
I want to say a huge thank you for all your information — it's drastically changed our marriage of 16 years. Here's my question, but first… a bit of the backstory.
My husband and I waited to have sex until we were married. This was our choice and part of how we wanted to live our life (devotion to our faith) going into marriage. Because we waited, I didn't know anything, but it was fun to explore with my soulmate. But discovering your Information has changed our lives because I KNEW NOTHING, and my poor husband had to settle with the missionary position every night.
We also do not watch porn. I want to learn what's on your videos but can't bring myself to watch other couples naked and experimenting.
I know. That sounds extreme — and it's a personal choice for us. But do you have any suggestions? I need the education and have watched some of your stuff on BetterLover or where you and your husband explain with clothes on. I have searched my soul about trying it anyway but just can't bring myself to do it. Help! Thank you!"
— Mila (not her real name)
========================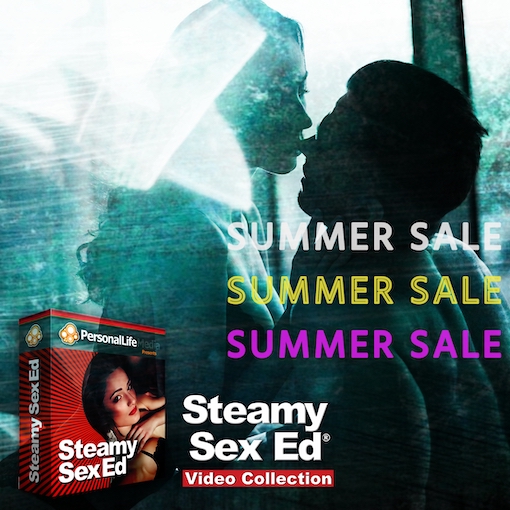 Dear Mila,
Here's a little story.
One weekend nearly 20 years ago, Tim and I were attending a Tantric lovemaking workshop called Ecstatic Loving. We were to face each other and create a sacred container around us — a love bubble. Then we were to put in and take out things to create a loving, trusting environment. There's a moment in that scene I remember with such joy. Tim put in an imaginary mirror into which I could look to see how beautiful my body was in his eyes…
This "reframe" made me start honoring my body as a treasure. And I learned that body love is a mindfulness practice. If doubt creeps in, you need to change the radio station in your mind to KLUV and remember how lucky we are just to be alive and loved.
But I still had issues seeing other people naked until…
A workshop called Sex, Love, and Intimacy through the Human Awareness Institute, in which we did an exercise called "Hand on Heart." In this experience, the group of sixty split in two and formed two circles. The outside circle faced inward, and the inward group of people faced the outer ring of workshop attendees.
The workshop leaders verbally guided us through the process of putting one hand on our heart and our other hand holding the hand of the person in front of us. We could kiss our hand or their hand as they held ours. We kept eye contact with the person — permission was given to look deeply into the faces of each individual as we were holding them and connecting our hearts. We'd have a minute to SEE each person and then step to the right to witness the next beautiful soul.
Everyone was naked when we did this.
Sixty people spanning ages from their 20s-70s were in a room together, stark naked, getting over themselves and connected.
This was another one of those pivotal life moments that helped me overcome feeling weird about nudity. I realized we are born in these meat packages that don't define us unless we allow them to. What matters is who we are in our hearts and minds and how we show up in the world as a part of humanity's great interconnection.
Seeing all those naked people, from young and smooth to old and wrinkly, from thin to fat, short and tall, took charge of nudity for me to another level. Soon after, I began going to topless beaches and feeling so much more comfortable in my own body. Being around many naked people has made me more comfortable in my skin and less judgmental about others. It's also helped me feel more confident that as long as I am healthy and strong for my age, I look beautiful because of my loving heart and my excellent circulation, not because of my boobs or size or anything external.
So when you wrote to me about feeling conflicted about watching our videos because your faith prevents you from watching porn, I knew I needed to report back to you.
First, thanks for entrusting me to discuss your concerns regarding the quality of the nudity in our sexual education videos. I, like you, grew up with a lot of sexual shame, repression, and guilt in many areas of sex, including my body image. But I escaped it by doing personal growth work such as the stories I related above.
Here are the four reasons I believe that watching our Steamy Sex Ed™️ Video Collection will benefit you more than me giving you an excuse not to. It's what I call "the antidote to porn." Most of the porn I've watched seems degrading to women. It isn't slow, sensual, and heart connected. It's friction, not connection. And it never shows enough foreplay to get the woman turned on. It's for men from a male point of view. Our Steamy Sex Ed Video Collection showcases relatable couples demonstrating heart-connected lovemaking techniques. It is in no way pornographic. It's made for couples to watch together. And yes, they are nude, but after a few minutes, you become so enthralled by the techniques they demonstrate that you cease to care about the nudity.
Now, here are the four reasons why I want you to try the videos and see for yourself if this is good for you, healthy for your sex life, and nothing to be worried about:
Reserve Your VIP Spot ⇐ Steamy Sex Ed® Steamy Summer SALE Is Coming! Experience Incredibly Hot Passion. (Heart-connected, sensual, passionate lovemaking videos)
You'll get a one-day advanced notice before other people so you can have a chance to consider purchasing my Steamy Sex Ed® Video Collection before all of our 60% off sale copies are snatched up.
1. Overcoming Shame
Your religious upbringing installed shame about the human body. You were told that nudity is wrong. More than any of the other four reasons, THIS is an enormous disservice to your life that you've sustained.
Is a doctor's visit under the caring eye of an experienced practitioner cause for shame?
Does seeing a breastfeeding mother make you glance away uneasily?
Do you have difficulty looking at your genitals in a mirror?
Do you have sex with the lights off, under the covers, or partially clothed for modesty?
Could you shower in a locker room with other women, or would that be too triggering for your modesty?
These all indicate that you've been taught to think seeing other people's bodies or looking at your genitals is wrong.
You're at a fork in the road where you are hitting the wall of the negativity fed to you by others trying to control you. The left fork stays where you are, denying pleasure and complete acceptance. On the right is moving into appreciation and openness, which you can do with a single decision.
2. Appreciation
You get to live your life full of integrity and love while also being able to see the beauty of the human form as a blessing if you choose to. This is where you take your decisions about your reactions into your own hands. You can celebrate the body's miracle or shy away and miss out on it.
There are now nearly 8 billion Homo sapiens on earth. Remarkably, every single one is both wildly unique and almost the same. The XY males have penises, prostates, and testicles. The XX females have breasts, vulvas, clitorises, vaginas, and uteruses. The more penises and vulvas you see, the less charge you experience in your body each time. You become desensitized to nudity the more you witness it.
That's why your gynecologist can look at vulvas all day without being turned on by it.
You are missing out on the tremendous honor of seeing the miracle of the human form by denying yourself the viewing of naked people. And that contraction around viewing others may translate into self-loathing of your parts. I'm not saying it is for sure with you, but that is the pattern of shame that replicates through repression.
When I was in my late 30s, going through my sexual awakening and moving through my shame, here's something that helped me. Tim got out a mirror one day and requested I look at my genitals. He showed me my parts and told me how pretty they were. That got me to see the beauty of my vulva, and I began to have a deeper connection with my own body, my menstrual cycle, how my vaginal secretions changed through the month, and how in every moment, my genitals would change and look so pretty in all her different moments.
Appreciating my vulva through the lens of my husband's love allowed me to begin to love my own body more fully, which then expanded my orgasmic pleasure. I was able to connect visually to develop my felt sense of satisfaction.
3. Education
I can only teach you so much through verbal description. A picture is worth a thousand words. Enough said. Watch and learn.
4. Permission
I'm permitting you to take this next step. It's ok. Try the videos. Within minutes you'll feel comfortable with the material and kinship with the sweet people who worked so hard to show you how beautiful sex can be.
Your past experiences have led you to trust me. I appreciate that Steamy won't let you down; it will bring you up to new levels of pleasure with your partner.
Reserve Your VIP Spot ⇐ Steamy Sex Ed® Steamy Summer SALE Is Coming! Experience Incredibly Hot Passion. (Heart-connected, sensual, passionate lovemaking videos)
You'll get a one-day advanced notice before other people so you can have a chance to consider purchasing my Steamy Sex Ed® Video Collection before all of our 60% off sale copies are snatched up.