Want to get the truth about 5G radiation exposure? Read on to learn more about the dangers of 5G.
5G has officially made its way to buzzword status — but what do you know about 5G?
Should you be worried about your safety? Should you toss your cell phone or add an EMF blocker to your home?
How do we separate the truth from the myths regarding 5G safety?
My video editor, Lloyd, used to feel sick, or his heart started palpitating each time he went close to his super-powered WiFi router. He took massive action to adjust his workspace and shield himself and his family from the signals. He's fine now.
Here in Marin County, where I live, our citizens voted against having 5G mobile towers. They are concerned about the long-term effects.
To get the lowdown on 5G radiation exposure, the truths, misconceptions, take precautionary measures to protect yourself, you'll want to get Nicolas "The EMF Guy" Pineault's book, 5G in 5 Minutes. 
5G in 5 Minutes will teach you what science has to say about the health risks of 5G exposure. You can feel empowered in your choices for yourself and your loved ones.
You'll get the hard facts and information, all explained by "The EMF Guy" himself. It's easy to understand and put into practice.
— A Quick and Rational Guide on 5G Radiation from Nicolas "The EMF Guy" Pineault.
As a bonus, when you download the guide, you'll get a complimentary ticket to the Restore Your Mitochondrial Matrix Summit online from August 23 – 30, 2022.
This weeklong virtual summit brings together more than 40 expert speakers — from doctors and authors to nutritionists and DNA experts — to teach you how to supercharge your body's mitochondria and feel more productive and focused than ever!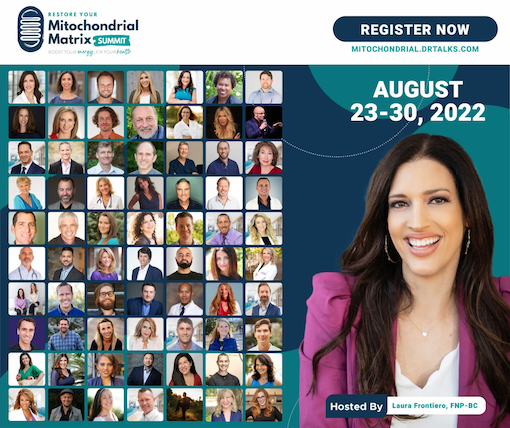 THE DANGERS OF 5G
In the 'Reverse Your Mitochondrial Matrix Summit,' you'll discover how to:
Restore Your Energy Edge: Unlock the capacity of your mitochondria, a.k.a, the powerhouse of your cells, to fight fatigue and ignite your energy for life! Reach your peak levels of mental, physical, and biological performance.
Clear Brain Fog and Refocus on Your Goals: Become the most focused person you know and embrace productivity like never before. Get back to your old self at work, get serious about your goals, and trust yourself to be able to handle whatever comes your way.
Say "Yes!" to Life Again: You can have a career with a "capital C." Run marathons, organize a monthly book club, spend time with your friends and family, and get enough sleep at night. When your cells make enough energy, you can check ALL the boxes.
Heal Your Relationships: Reclaim the relationships you've lost to fatigue, food sensitivities, and overwhelm. It's time to start RSVPing yes to the dinner invitations and weekend trips again.
Become a Stress Management Pro: Stress is inevitable, but that doesn't mean you have to drown in it. Harness the power of your parasympathetic nervous system and heal your brain to handle stress with ease.
Strengthen Your Immune System: Free your gut from toxins and watch the ripple effects boost your immune system for long-term health.
Balance Your Hormones: Learn about the connection between your mitochondria and hormones. Get the balance you need to reduce stress, fight weight gain, and have happy, peaceful menopause.
— A Quick and Rational Guide on 5G Radiation from Nicolas "The EMF Guy" Pineault (And Join The 'Restore Your Mitochondrial Matrix' Summit For FREE)