Read on to learn how to have more youthful skin.
I encounter dozens of things that fascinate me as I search for the best anti-aging and longevity products and strategies.
One is NAD+ or nicotinamide adenine dinucleotide.
Don't let the complicated name scare you away. It's a critical enzyme found in every cell of our bodies and involves hundreds of metabolic processes.
NAD+ is considered an essential molecule as, when it's low, our cells can't generate any energy to survive and carry out their functions.
With all good, natural things our body produces, they decline with age. Some studies suggest that between the ages of 30 and 60, the body's levels of NAD+ may be depleted by up to 50%.
Young Goose has developed products to support skin health by addressing your body's natural depletion of NAD+ over time.
Your skin is one of the most telling signs of your age. Stay younger with this new line of skincare I'm now using:
⇐ Natural Skin Bio-Genesis By Young Goose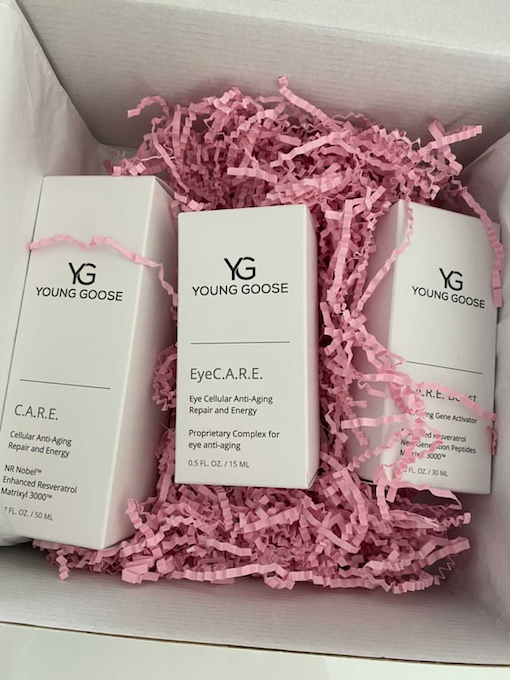 All Young Goose products offer multiple benefits, including:
C.A.R.E. (with NR Nobel)® is a moisturizer designed to support skin health and improve youthful appearance.
Adaptogenic Cleanser is a cleanser that removes makeup, cleanses deeply, and hydrates.
Pro C.A.R.E.® is a serum designed to promote skin health, contribute to a youthful appearance, and improve the look of pores.
Bio-C Peptide Spray is a rejuvenating mist that hydrates, smoothes, protects against harmful blue light and environmental free radicals, and brightens.
Bio-Retinol is a retinol serum designed to support skin health, promote an even skin tone, and contribute to a beautiful, firm glow.
Hyperbaric Mask is a potent mask designed to provide a soothing effect, help reduce redness, and support the maintenance of skin's natural defenses.
I love what Young Goose is doing.
Their products are designed to nourish skin cells and promote a youthful appearance.
The CARE line of products is formulated to support a youthful-looking complexion and address fine lines and uneven skin tone.
⇐ Natural Skin Bio-Genesis By Young Goose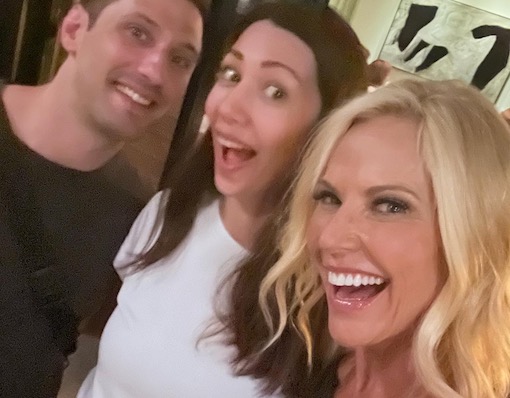 This is Amitay and Anastasia, the founders of Young Goose and I. I use the Bio Retinol 1-2 times a week, the oxygen mask when I think of it, and the eye, face, and CARE cream daily.
If you're interested in the geeky stuff behind NAD+, check this out.
NAD+ has attracted significant interest in skincare.
NAD+ is a helper molecule, a coenzyme found in every cell in our body, playing a pivotal role in all metabolic processes and for the Sirtuin family (longevity genes). NAD+ helps our mitochondria to generate energy for the body to aid in metabolism, DNA damage repair, aging, and cell death, to name a few. 
NAD+ is recognized for its antioxidant potential, which could complement the benefits of other antioxidants like vitamins C and E.
With lots of hydration and healthy nutrition, as well as adding NAD+ to your daily routine, you and I now have a greater chance of maintaining our youthful glow.