Read on to learn how to get more energy. Have you ever wondered why you always feel so exhausted? 
It's like you've been lugging sandbags all day.
And you can't get as much done anymore? 
You're not alone. In fact, according to health experts, it's become an epidemic.
The truth is, you're not "just tired."
Your body is under duress and trying to send you giant SOS warnings.
I bet you're suffering from some of these symptoms:
lagging energy
insomnia
difficulty concentrating
slowed focus and alertness
mid-afternoon slump
crazy late night and afternoon cravings
aching muscles, and headaches
If you ARE dealing with at least 2 of those, listen very closely to what I'm about to share.
You cannot ignore these S.O.S. signals.
You must take action and address them NOW, or your symptoms will get much worse.
Reclaiming your energy and living a vibrant life now (and at any age) is possible… and easier than you might think!
My brilliant friend and colleague, Dr. Mariza Snyder, host of the upcoming Hormone Relief Summit, will help you.
Her Energy-Boosting Cheat Sheet contains 11 safe, simple, and effective ways to supercharge your energy reserves — in as little as 10 minutes a day. 
GET MORE ENERGY
It's her life's mission to keep helping women (like YOU!) uncover the natural root causes of those symptoms that seem to make daily life such a struggle — and fatigue is her public enemy #1.
After not finding the answers she needed for her endless exhaustion, Dr. Mariza spent years developing a safe, natural, proven way to get her energy back.
And today, she wants to share it with you — for FREE!
Get Dr. Mariza's power-packed guide. It contains 11 powerful, scientifically proven, and practical steps to get more energy… most of which can be done in a minute — or less!
It's time to stop surrendering to fatigue.
You DESERVE abundant energy!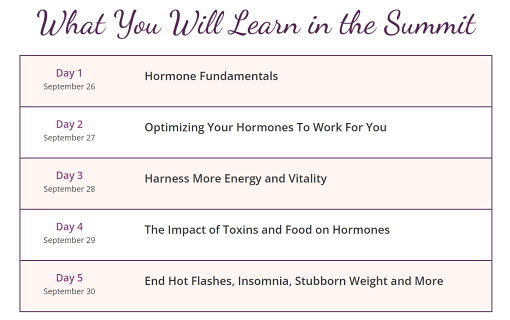 Here's an extra treat!
When you sign up to download the book, you'll also be registered to join Dr. Mariza Snyder's upcoming Hormone Relief Summit, completely FREE.
You'll get to join 40+ experts for a 5-day event where they share the latest breakthrough information to help you say goodbye to insomnia, lack of energy, unpredictable weight gain, hot flashes, wicked food cravings, and low libido.
The lineup includes famous and highly-respected experts like Dr. Anna Cabeca, Dr. David Perlmutter, JJ Virgin, Ari Whitten, Dr. Mariza Snyder, Dr. Pedram Shojai, Dr. Michelle Sands, Isa Herrera, Dr. Tom O'Bryan, and many more.
You'll not want to miss this. I'm going!