I saw a viral video of a terribly long line of electric vehicles waiting for a charge.
Then another one where a "new" EV model needed 4 days of charging if you're using normal wall outlets.
Energy is essential. And it's even more important for our own bodies.
Imagine spending 7 years staring at your bedroom ceiling — barely able to get out of bed.
That's how Harry Massey spent his early adulthood after being diagnosed with chronic fatigue syndrome — despite a youth spent literally climbing mountains.
As you can imagine, this experience took a huge toll on his mental health.
Thankfully, after years of research and a lot of trial and error, he learned how to reset his body's internal battery and restore his energy to pre-CFS levels. N
Now, with the right tools and knowledge, we can regenerate, replenish, and recharge our bodies' internal batteries. They're called mitochondria.
If you don't reset your mitochondrial batteries regularly, you'll find yourself reaching for a pick-me-up at 3 pm every day just to make it through the day. And forget about things like hitting the gym or doing healthy meal prep — you don't have the bandwidth.
If this sounds familiar, download Harry Massey and Steve McCardell's guide: Restore Your Energy With Bioenergetics.
This book will reveal to you:
Harry's personal story going from CFS to running a company that helps people feel energized and active
Why biochemistry will never be enough to keep you feeling awake and healthy
How to restore your energy without falling prey to big Pharma's marketing machine
How to tap into your body's internal battery and reset it with a higher peak capacity
The best foods to boost energy production (and which foods zap it)
And more!
There are a few easy tweaks you can make to get more juice!
⇐ Restore Your Energy With Bioenergetics (And Join The BioEnergetcs Summit For FREE)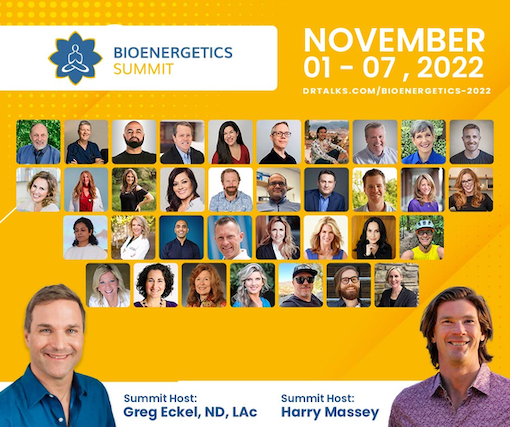 RESET AND RECHARGE
As a bonus, when you download the guide, you'll get a complimentary ticket to the BioEnergetics Summit online from November 1 – 7, 2022.
This weeklong virtual summit brings together more than 30+ expert speakers, researchers, New York Times bestselling authors, and more to show you exactly how to harness the power of BioEnergy to create the happiest, healthiest, most abundant life you've always desired.
Over +50,000 have attended the summit in the past. You're not going to want to miss this cutting-edge breakthrough discovery.
BioEnergetics heals more than just your body. It helps you explore how body, mind, and spirit are connected to give you peak health and wellness.
Bioenergetic therapists use a variety of techniques to help their patients release physical tension that may be contributing to emotional and mental distress such as anxiety, depression, chronic stress, eating disorders, trauma, and more.
Bioenergetic therapy can also be used to directly improve your overall physical health, including relief from chronic pain, arthritis, digestive issues, and even cancer.
And it's through these techniques that you allow your physical and emotional well-being to recharge so you can truly heal and prevent disease.
Even better? These therapies are non-invasive, simple, and effective…
I hope to see you there!
⇐ Restore Your Energy With Bioenergetics (And Join The BioEnergetcs Summit For FREE)