I received some good news today!
If you missed the Bioenergetics Summit, you're getting a second chance!
The summit host and co-host, Dr. Greg Eckel and Harry Massey, are bringing back the ENTIRE EVENT's presentations for a special encore weekend.
⇐ Get A 2nd Chance To Watch All Speaker Presentations (Last Chance For FREE Viewing On November 11 to 13)
WATCH BEFORE IT'S GONE
This November 11 -13, 2022, you have a second chance to watch ALL the speaker presentations.
The Bioenergetics Summit was an exciting event that helped thousands of people worldwide learn how to detect, correct, and protect their body's internal energy mechanisms.
Together, we learned why insomnia and illness are red flags screaming at us that our internal batteries are operating at 60% capacity! They're begging us to heal our control systems so our bodies can perform as needed.
We dug into bioenergetics, medicine, science, nutrition, sleep hygiene, trauma healing, epigenetics, and so much more!
And during this encore weekend, you have a second chance to watch it again. Anything you missed the first time around — plus ALL the bonuses — are waiting for you inside.
But it's only happening for a VERY limited time.
⇐ Get A 2nd Chance To Watch All Speaker Presentations (Last Chance For FREE Viewing On November 11 to 13)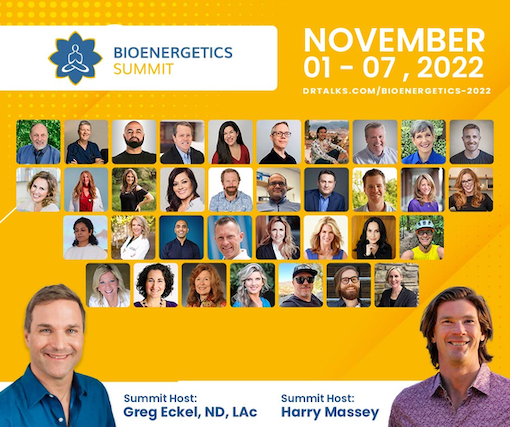 Over +50,000 have attended the summit in the past. You're not going to want to miss this cutting-edge breakthrough discovery.
Here's a sneak peek at what you'll discover at the BioEnergetics Summit:
Grounding: This technique involves clients engaging in physical movement or exercises to help them feel rooted and present. This also may help to discharge excess energy and tension.
Sensory Awareness: This involves helping clients become more aware of their body sensations, including feelings, sounds, smells, and tastes. This can help them to release tension and become more grounded.
Movement: This technique involves releasing tension through movement. For example, your therapist may have you walk, run, or dance to express anger or frustration. Or, you might kick or punch a pillow to release energy or pent-up emotions.
Containing: This technique consists of having clients refrain from engaging in a movement to allow them to feel what's happening inside their bodies. For example, clients may be asked to avoid the urge to tap their feet or cross their arms.
Supportive Contact: This technique involves the therapist making supportive contact with clients to help them focus and feel grounded in the present. For example, when a therapist holds their hand close to or against a client's body when they are in an expressive movement, the therapist applies "supportive contact."
The encore premiere starts at 6 PM ET on November 11th.
I hope to see you there!
⇐ Get A 2nd Chance To Watch All Speaker Presentations (Last Chance For FREE Viewing On November 11 to 13)
BioEnergetics heals more than just your body. It helps you explore how body, mind, and spirit are connected to give you peak health and wellness. 
Bioenergetic therapists use various techniques to help patients release physical tension that may contribute to emotional and mental distress, such as anxiety, depression, chronic stress, eating disorders, trauma, and more.
And it's through these techniques that you allow your physical and emotional well-being to recharge so you can truly heal and prevent disease.
Bioenergetic therapy can also be used to directly improve your overall physical health, including relief from chronic pain, arthritis, digestive issues, and even cancer.
Even better? These therapies are non-invasive, simple, and effective.
⇐ Get A 2nd Chance To Watch All Speaker Presentations (Last Chance For FREE Viewing On November 11 to 13)