There are tons of ways you can stimulate a woman to have female ejaculatory orgasms. Most people know about the finger move called "come hither." And that's great, but it's even more incredible when she's squirting all over your heat-seeking moisture missile.
Use your penis to make her squirt.
Different women can ejaculate from different techniques, so the more skills you know, the more you can make her squirt her heart out.
You can use a toy, your fingers, your tongue, your lips, the palm of your hands, and especially your man cannon.
Your manaconda can tease, pleasure, and accelerate your woman's turn-on, taking her into squirting orgasms.
How? Using the head of your love muscle and stroking her a certain way.
More about it below, but first, if you haven't looked at Gabrielle Moore's Squirting Academy 12-Week program all about naked, squirting women… do that now!
⇐ Get In Now — Your Naked Teachers Are Waiting Inside For You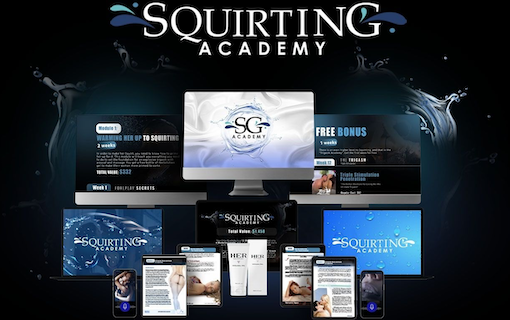 SQUIRT ALL SHE CAN
I had some fun with those silly penis names above… but now let's get to the four promised penis squirting techniques:
1)Take the head of your lubricated penis and rub vertically from her vaginal opening (called her introitus) up to her clitoris… over the hood of her clitoris in that shiny tissue area just below her mons pubis and then stroke back down again.
Remember, you can use a lot of pressure, or just a light touch, so ask her what feels good.
Check your woman. Does she love how it feels? Is she feeling it?
If yes, you're doing well. If it's not to her liking, vary your pressure and speed until you get a rhythm that satisfies her.
2) You can also rub the head of your penis back and forth over her vaginal opening and around her introitus with a circular motion. Don't put your penis inside yet — you are warming up her vulva for a squirting session.
3) Rub your penis glans (tip) just above the opening to her vagina and below her clitoris.
By doing this, you will be stimulating her urethral opening and helping her juices flow. The ejaculate comes out of her urethra — the same as her pee. (Just like you.) That urethral exit is the spongy tissue that is the same as the G-Spot. It is the end of the G-Spot where it comes out of her body, and it LOVES pressure — especially the gentle pressure from your penis tip.
4) Next, use the head of your penis to stroke her clitoris quickly and lightly back and forth.
Your penis is a soft, smooth instrument of pleasure that works well, not just for pumping her vaginal canal but for stimulating the tissue around her vulva.
Alternate between these four moves I've just described. The warmth of your penis, plus its smooth head and tender touch, will feel heavenly for her.
Now, this is just one tip. There are tons more. And I know you love to collect sex tips that take your woman to new heights of orgasmic pleasure.
So click this link and check out Gabrielle Moore's Squirting Academy program!
⇐ Get In Now — Your Naked Teachers Are Waiting Inside For You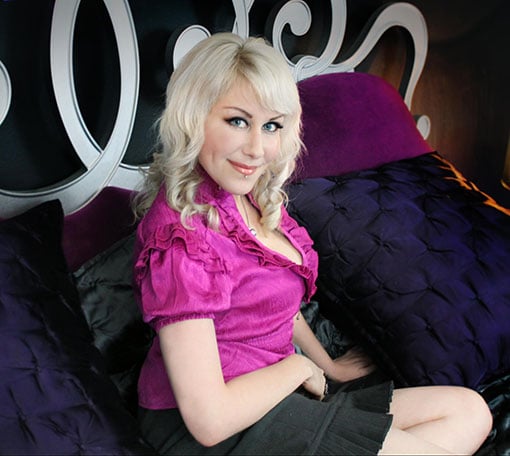 You may ask why I'm promoting my friend's squirting videos instead of my "Female Liquid Orgasm" and "Squirt Your Heart Out" programs. And that is because when you are in a learning mode, you often want to get your hands on all the best available information from trusted resources. If you'd enjoy some gorgeous adult stars stripping down to show you how to make a woman squirt, then you will love what Gabby's created! Highly recommended.
⇐ Watch Gabrielle Moore's New Video On Squirting Orgasms
Tips you might have missed:

Squirting Tip 1 of 5: Perfect Blend

Squirting Tip 2 of 5: G-Spot Exploration Exercises