You know that moment at the end of the day when you're collapsed on the couch, practically below zero energy, scrolling through your endless news feed, aware that you're wasting time but powerless to stop?
It turns out that's a big red flag flapping in the breeze. It's your body trying to communicate to your brain that you have unresolved, buried trauma that needs to be addressed.
I often see how stored trauma can significantly impact a person's life, often in ways they may not even realize. When we experience a traumatic event, it can be difficult for our brains to process and integrate the experience fully. As a result, the memory of the event and the associated emotions can become "stored" in the body and mind.
I want to tell you about Dr. Aimie Apigian's FREE guide, Steps to Identify and Heal Trauma: A Roadmap for Healing.
⇐ Steps To Identify and Heal Trauma: A Roadmap For Healing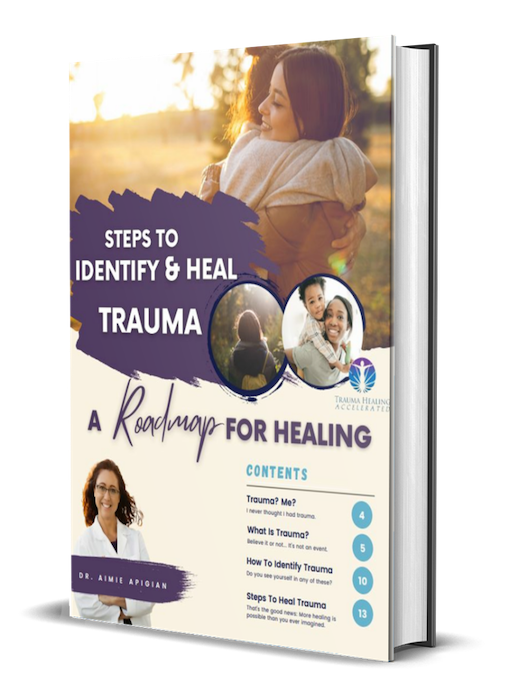 HEAL THE HURT
This guide will teach you:
The most significant red flags of stored trauma (and how to address them)
How to face your trauma without constantly retriggering and retraumatizing yourself
A clear, step-by-step path to a life of more great release, freedom, joy, and presence
Over time, this stored trauma can manifest itself in several ways. For example, a person who has experienced trauma may struggle with anxiety, depression, or post-traumatic stress disorder (PTSD). They may also have physical symptoms such as stomach issues, chronic pain, or immune system problems.
In terms of relationships, stored trauma can affect a person's ability to trust, be vulnerable, and connect with others. It can also impact their communication and coping skills, leading to conflicts or misunderstandings in their personal and professional relationships.
Finding ways to heal our trauma at our own pace is essential. That's why Dr. Aimie Apigian's FREE guide will be super helpful for just about anyone.
⇐ Steps To Identify and Heal Trauma: A Roadmap For Healing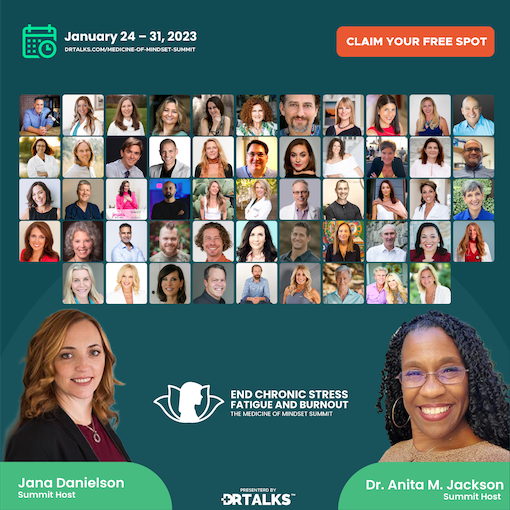 When you download the guide, you'll also get a FREE ticket to the End Chronic Stress, Fatigue, and Burnout: The Medicine of Mindset Summit, happening online from January 24th to the 31st, 2023.
You'll learn from 40+ experts in medicine, meditation, yoga, the mind/body connection, chronic illnesses, mental health, and more about embracing the power of your mindset to overcome stress, fight fatigue, battle burnout, and live a happy, healthy life.
It's no surprise that mindset matters.
A positive attitude and approach to life can heal and help you overcome any challenge. A powerfully positive mindset can also physically impact your health, cells, brain function, and longevity.
If you're looking for information that can help give you a complete 180 turn in your life for the absolute best, look no further than this summit.
I've also been invited to speak at the Medicine Of Mindset Summit.
My interview will be on Day 4, and it will be about Ageless Vitality. I'll be talking about the role our mindset plays in our confidence, sensuality, and sexuality, how it dramatically affects our health, and how we can heal and move forward from negative health experiences.
⇐ Watch My Segment All About Age