I've been looking forward to this since last year.
You may already know I've been invited to speak at the Medicine Of Mindset Summit. It's a gathering of 40+ of the world's leading health experts where we share our best experiences, advice, research findings, and secrets using the power of our Mindset to end chronic stress, fatigue, and burnout.
My interview will be on Day 4, and it will be about Ageless Vitality.
I'll be talking about the role our mindset plays in our confidence, sensuality, and sexuality, how it dramatically affects our health, and how we can heal and move forward from negative health experiences.
⇐ End Chronic Stress, Fatigue, And Burnout: Medicine Of Mindset Summit (Remember To Watch My Segment)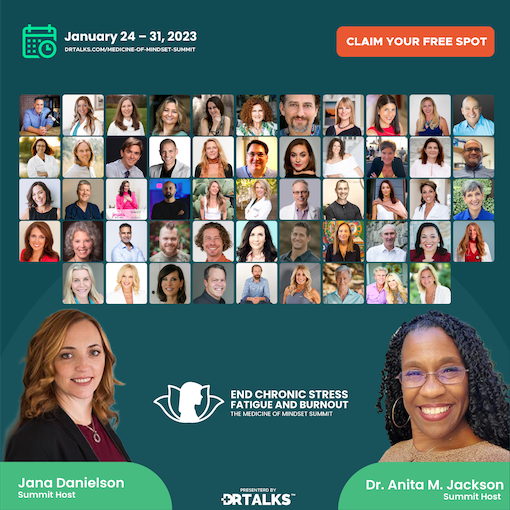 MEDITATE THE NEGATIVITY AWAY
Here are some of the beautiful information and topics that you're going to learn when you join the summit and watch the expert interviews:
How to identify and reverse chronic fatigue, stress, and overwhelm…
How to get the most nutritional value from your food with mindful eating practices
How meditation transforms your cells and helps you live longer
How to improve brain function with EFT Tapping, acupuncture, and yoga
The power of community and connection to improve physical health and disease outcomes
How to use mindset to increase wealth, boost happiness, and welcome balance
The link between a healthy breathwork practice and cognitive function
How to identify the mind/body connection for physical and mental health
How mindfulness practices can help reduce and manage chronic illness symptoms
Why mindfulness and meditation can be powerful tools against the aging process
…and much more!
⇐ End Chronic Stress, Fatigue, And Burnout: Medicine Of Mindset Summit (Remember To Watch My Segment)
It's no surprise that mindset matters.
A positive attitude and approach to life can heal you and help you overcome any challenge. A powerfully positive mindset can also physically impact your health, cells, brain function, and longevity.
If you're looking for information that can help give you a complete 180 turn in your life for the absolute best, look no further than this summit.
⇐ End Chronic Stress, Fatigue, And Burnout: Medicine Of Mindset Summit (Remember To Watch My Segment)