Longevity is the concept of extending the human lifespan and enhancing overall health and wellness as we age. I also believe we can expand our sex span… keeping intimacy not just going longer but getting better.
With the right tools, you can start taking control of your health and well-being today. I recommend the book, "10 Health Longevity Tools That I Use" by Robert Lufkin, MD.
⇐ 10 Healthy Longevity Tools by Robert Lufkin, MD.
LIVE LONGER HAPPIER
This guide covers essential lifestyle components that you should pay attention to thrive as you age—things like food, physical exercise, mental exercise, sleep, and stress management.
People are beginning to realize the truth. They don't have to accept the inevitability of age-related decline. And by making confident lifestyle choices, you, too, can improve your health and longevity.
One famous quote about longevity comes from Dr. David Sinclair, a well-known figure in the health and wellness space. He said, "Aging is a disease that is treatable." This quote speaks to the idea that many of the negative aspects of aging are not inevitable but rather the result of underlying health conditions that can be addressed and improved.
Overall, the focus on longevity is driven by a desire to live longer, healthier lives and to minimize the adverse effects of aging.
⇐ 10 Healthy Longevity Tools by Robert Lufkin, MD.
When you download the guide, you'll get a FREE ticket to the Reverse Inflammaging Body and Mind Longevity Medicine Summit online from April 25 to May 2, 2023.
This summit brings together over 50 of the world's leading experts in longevity, nutrition, and optimal performance, among other fields. You'll be able to learn from these experts and correct any misconceptions about disease causes.
During this summit, you'll gain valuable skills such as:
Identifying the crucial factors affecting aging and longevity and how you can improve on these aspects…
Uncovering the hidden links between standard products, including food and cosmetics, and personal health…
Correcting the deficiencies in your daily routine that will improve your healthspan and lifespan.
Ultimately, this summit is all about bringing hope to those who have been told there is none. Your best days are yet to come, and we're here to help you get there. As the saying goes, "The greatest wealth is health." We're excited to share this journey with you.
Sign up for the Reverse Inflammaging Body and Mind Longevity Medicine Summit and take the first step towards a healthier, happier you.
⇐ 50+ Ways Increase Your Healthspan and Live Your Best Life In Your Golden Years.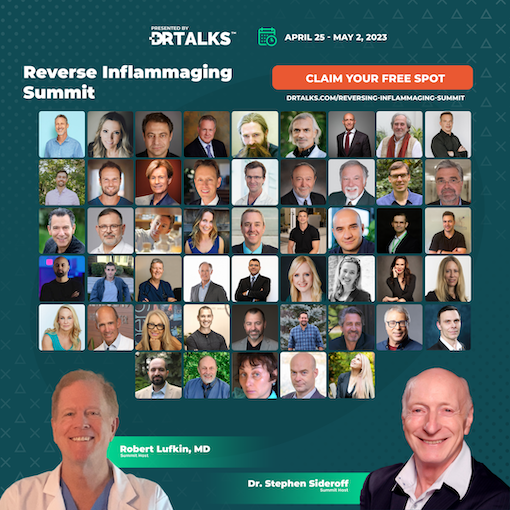 This is me lying on a water-cooled bed after using the Vasper device to generate more growth hormones and testosterone. More growth hormone keeps you younger. Building muscle is one of the ways to keep your growth hormone production higher. The water bed helps with recovery from the HIIT, high-intensity interval training that the Vasper facilitates. You get more strength with less pain during recovery from working out.