She Doesn't Want To Have Sex When She's Pregnant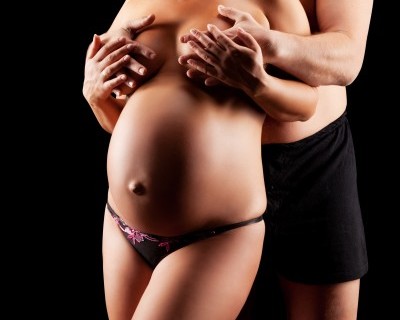 Hi Susan,
My wife is currently pregnant, so combined with her previous lack of
interest in sex and extreme discomfort, she doesn't want to have sex at all.
Now this I can understand, given her state, and I have not complained a bit,
despite the fact that I have heard from some that sex is actually
*better*when you are pregnant.
Any suggestions beyond just, "buy my materials"? I thought about it but my
situation seems somewhat different from most of the people you appear to be
addressing.
Thanks!
Hi J,
Thanks for writing to me. I'm glad you did.
I have only been pregnant once and it was before my husband awakened my sexuality and I'm not a doctor, so I can only advise you from a personal perspective. But I found that all the extra blood flow to my genitals definitely made pregnancy sex the best I'd ever had.
Afterward, I wished for that feeling to return. And it did. But not until we discovered Expanded Orgasm, the genital massage technique that allows you to put your woman into an extended, stacked, multi-orgasmic state of deliciousness. (http://expandherorgasmtonight.com)
How to give her expanded orgasms?
Arousal, from a physical level, is heightened by engorgement. When the erectile tissue (there's a much erectile tissue inside your woman as there is in your penis and scrotum – the clitoris is just the tip of the iceberg) is engorged, from stroking, massaging, grinding up against each other and any other way you can provide pleasurable sensation, it will feel good to her.
Since she's going to deliver your baby, you might want to start giving her regular genital massages during her pregnancy.
Lay her comfortably on the bed, butterfly her legs open, put pillows underneath her legs to support them, wrap her upper body in a comfy blanket and stroke and knead and play with her lower abdomen, her hip flexor area, the place where her legs and torso meet. Then move in from the outside edges, stroke all up and down from her mons pubens to her sweet little butt cheeks. Then stroke the outer labia for a long time, really getting them loose, wiggly and engorged. Go from above her clitoral hood, all the way down along her forchette to her perineum. Focus a lot of attention on her perineum because that's going to be stretched during childbirth and you want it loose, engorged and supple.
If she wants more, she'll start wiggling and straining or asking you to go "inside." If she doesn't, just make some long, smoothing motions with the full flat of your hand from her mons pubis all the way down (lots of lube) to her sweet cheeks. Do this 4-6 times, then put light, even pressure on your whole hand and palm and lay it down on her whole genital area and just hold it for a few seconds, until she sighs a big sweet sigh and thanks you profusely.
Do this as much as she'd like – daily if possible.
This will serve to engorge her and make her feel really sensual and delicious. She might or might not want penetration from there. If you do this everyday, it's likely she will enjoy having some orgasms from your fingers, your tongue and perhaps… your penis.
Now, as far as Revive Her Drive. If your wife has a "previous lack of interest in sex," I'd suggest you start devouring the program immediately. If you haven't gotten your sex life on an upward spiral before you're having children, it's likely only going to get more dissatisfying, more sporadic as her world is consumed by kids.
J, you have to get this handled man. And you can start now, by learning the 4 Elements that it takes to have a great sex life. These can all be started while she's pregnant and amped up over time.
If you have any questions at all about what I've written above, just ask.
And congratulations on your coming baby!  Yay! Kids are super awesome and can really deepen your connection to your woman.
With Love,
Susan Bratton
P.S. If you don't know what some of these terms are, you can use the search box on the upper right hand corner of this page to see illustrations on other blog posts.