Take This "Multiple Orgasm Skills" Strengths Benchmark Quiz Free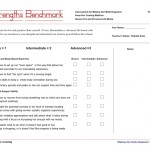 Score Yourself: 13 Question "Strengths Benchmark" [pdf]
Give yourself 1 point for each Novice check mark, 2 points for each Intermediate check mark and 3 points for each Advanced check mark.
Download this free, private Strengths Assessment Benchmark Questionnaire from Tallulah and Sloane's "Making Her Multi-Orgasmic" webinar and rate yourself.
Score your skills in three areas:
– Anatomy and Body-Based Expertise
– Emotional Support Ability
– Skills and Techniques
Making Her Multi-Orgasmic "Strengths Benchmark" <=== Free Questionnaire
Tally your score before – and then after the webinar – to appreciate your immediate progress.
Use your Advanced skills as a platform for becoming a better lover and add your new areas of knowledge from the webinar to give your lady multiple orgasms.
With love,
Susan Bratton