Squirting Tip #3 Straddle You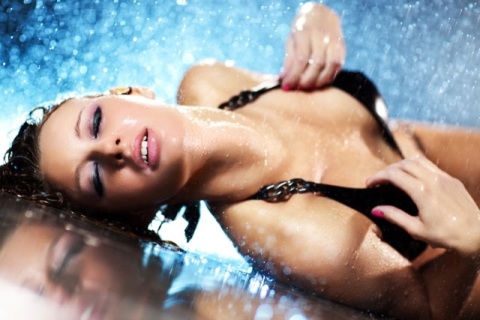 "FLO Week" is our week-long celebration of Female Liquid Orgasm… the online home study course for giving women multiple ejaculatory orgasms.
And here's a squirting tip for you:
When you are hard, lie down on your back on the bed. Have her kneel on one knee and straddle you.
Then she can hold your member and rub the tip of it back and forth as fast as she wants across her clitoris and urethral opening (under the clit and above her vaginal opening) quickly enough to make herself squirt all over your body and soak your cock.
This gets me off every time and makes me gush all over my man. Of course he LOVES getting soaked so much that he also likes when I squirt on him while we're in 69 position. There I am, devouring his manhood as I am squirting all over his face as he's orally pleasuring me. I'm getting off on both ends, from both orifices.
I cannot even tell you how turned on this gets us. Ejaculating makes me feel like a sensual goddess.
Ejaculate is safe to drink and it tastes different depending on where I am in my cycle. Sometimes it tastes like sweet hay, sometimes it has almost no taste.
My lover and I find this wet sex very hot! Do you?
Now that I've tantalized you, I have to deliver on our promise to send you to this explicit video Tallulah and I made.
This is not me in the video, it's Ripple and Robert. Just listen to Ripple MOANING. It's  a huge turn on for me every time I watch and I narrated the darn thing.
This is my double triple warning that this video is wet, sexy, full of moaning and squirting.
If you don't want to see explicit video, don't click on it!!!!
Click on the link below to watch this squirting video:
MOANING, SQUIRTING <=== WATCH ALONE
If you liked one, then watch the other too. The videos for Wife and Girlfriend are different, as are the stories about Ross (single) and Mark (married) and what they did with Tallulah's Female Liquid Orgasm.
And hey, although FLO is my favorite program for guiding your lady into her ejaculatory ecstasy, I believe in a solid education and highly recommend two other excellent programs on the market too:
If you want your gal to have early success ejaculating (and yes, ALL women are physically able) Squirting Orgasm Mastery 2.0 has been completely redone. This is the online video series with Marcus London and beautiful adult stars which is great fun to watch for even more ideas like animalistic squirting and deep impact positions for men of a smaller size. Check it out here:
<=== CLICK HERE
Jason Julius' Female Orgasm Blueprint is another highly recommended training for G-Spot orgasms. When you opt-in (safe) for this video you will learn all about finding and stroking the G-Spot in this EXCELLENT free video:  <=== CLICK HERE
Alexa and Lexi will explain to you the woman's mind and how to lead her into all sorts of adventures with Squirting Orgasm On Command. This foolproof technique gives any woman an explosive squirting orgasm, and I've personally reviewed this information and stand behind it 100%.
You decide what appeals to you.
Porn stars. (Marcus London and Girls)
A young male coach. (Jason Julius)
Two female sexy stars. (Alexa and Lexi)
Tallulah's female perspective.
Or get all four! My lover did and now I sometimes squirt a couple of CUPS of ejaculate which is the most transcendent, releasing experience of my life.
When you're in the learning stage it's a luxury you both deserve to own all three. What's more important than the deep intimate connection you share with your lover?
Here's the link again for you. Remember I warned you.
RIPPLE SOAKS THE CAMERA MAN'S PANTS <=== WATCH WITH CARE
 And if you haven't yet downloaded and read Tallulah's complimentary report called, The Truth and Myths About Female Ejaculation, grab it now here!
*Missed the other tips?