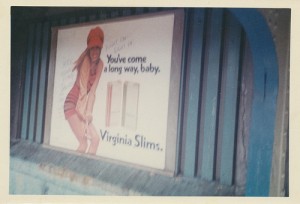 "Virginia Slims Bus Sign"
For the past 6 years I have dedicated my life to teaching and exploring female ejaculation.  The moment I learned how to ejaculate, was the moment my whole life would change forever.
And my, what an incredible journey it has been!
When I look back 6 years ago to when I started talking to folks about it, female ejaculation was seen, even in the San Francisco Bay Area (as progressive as it is), as a rare parlor trick.
Ejaculating was the equivalent of shooting ping-pong balls out of your butt.
Or better yet, there were many who claimed it was simply pee and that it didn't exist.  In some ways, when my film came out, it was ahead of its time.
Although women like Deborah Sundahl, Carol Queen and Annie Sprinkle were talking about this years before I was, they were a small handful of women who were the pioneers of this information – THE ONLY pioneers as far as I know.
Six years ago female ejaculation was seen either as a circus act that only a rare and talented few could achieve or it was seen as some taboo fetish that was vulgar and obscene or even worse, that it did not exist.
Why is something that EVERY woman is capable so obscured from our consciousness?
Flash forward 6 years.  Information about female ejaculation is more prevelant and lots of sex educators are integrating it into their teachings.  It is started to move into the mainstream a bit more each day as many become fascinated upon hearing about it and simply needed to know more.
From obscurity to the mainstream: Female Ejaculation has cum a long way!  And even though it is becoming more well known, it is still largely concealed and I am one of the very few sex educators (perhaps the only one besides Deborah Sundahl) who have dedicated their careers to exploring this topic and teaching about it.
Everywhere I go, whenever the subject of female ejaculation comes  up, EVERYONE has something to say about it.  This is sign to me that liquid orgasms are a source of societal fascination and I am absolutely THRILLED to be teaching about such a hot topic!

Photo Credit:
Joost J. Bakker IJmuiden
With love,
Tallulah Sulis