Warning: Explicit Video Still Images Below.
For partners who want to learn how to give a woman ejaculatory orgasms (aka "make her squirt). For women who want to see how to enjoy this ultimate orgasm and sweet release.
This is a momentous occasion for you and for us. We have produced, filmed, edited and uploaded an entirely new series of training videos and added them to the membership area of Female Liquid Orgasm.
This is brand new video for all of our FLO customers!
Watch Robert and Ripple in a real squirting video session as Tallulah narrates what's happening, explains the strokes and tells you step-by-step what to do to coax this nectar from your woman.
Seven new videos explain every step of the way exactly what to do in real-time.
Video 1: Anatomy
Video 2: Warm Up
Video 3: Clitoral Stroking
Video 4: G-Spot Strokes
Video 5: Second Finger
Video 6: Free Form Squirting
Video 7: More Free Form Squirting
Warning: Explicit Video Still Images Below.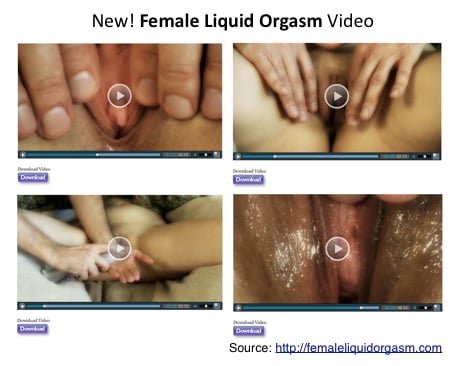 Look at all the audio and video included in Female Liquid Orgasm, plus the eBooks with stroke patterns, communications skills, exercises you can do together to learn how, anatomy information and fingering techniques. If you've wanted to discover the beautiful experience of ejaculatory orgasms, everything you need is within the FLO membership site: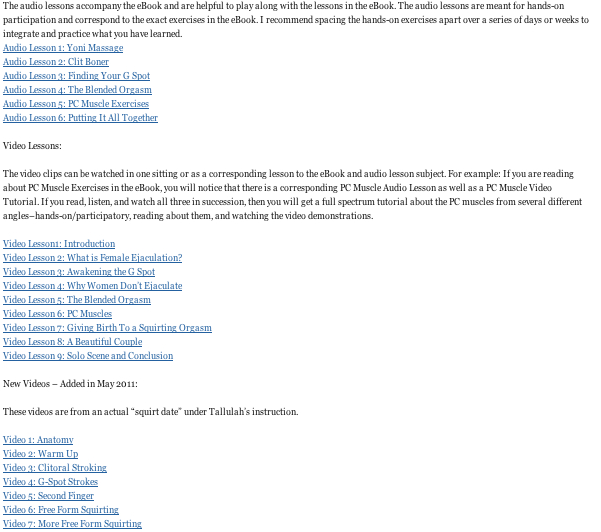 Download this eBook for FREE to get more tips and updates about female orgasms.