My friend, Nicole Daedone, author of Slow Sex (read our review), founder of OneTaste.us and teacher of Orgasmic Meditation opened a pop up (temporary) store in San Francisco called, "Orgasm Is…"

A brilliant publicity stunt, the store has interactive experiences all month long, running through July 18th 2011 at 211 Sutter Street, SF.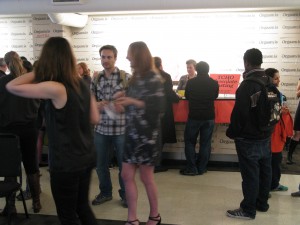 Taste Tcho Chocolate and sample Rumi tea while you're getting a copy of Slow Sex signed by Nicole.
Participate in the Desire Booth with video shared on monitors in the store windows.
Fill in a blank, "Orgasm Is…" spot on the store's walls.
Most of all, learn about this orgasmic stroking practice for partners that will change your life. (click here NSFW! to learn our 20 reasons why we love expanded orgasm)
With Love,
Susan Bratton