Yes. I'm talking about your male appendage.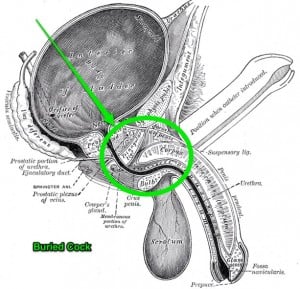 Though I haven't done an official survey, the results of the two penises I have most recently suckled have me believe that I can grow my guy's member by giving him oral.
Don't ask me if it's the attention, the amount of time I spend down there or the techniques I use, but I can tell you, both of my most recent lovers cocks have gotten noticeably bigger with my ministrations.
"Your newsletter is full of awesome articles for us men to know. Very interesting. Your Get Hard Instantly On Command book is fascinating and it really freakin' works! I felt as if my penis was just sucked by a vacuum cleaner. As for her, the feeling of all her fluids are all over my face from the way I give her oral after reading you 10x Oral Sex book is beyond words. People who aren't reading your FREE books are missing out! Till next time."
— John J.
If I had to guess, I think it's because I really like to get the whole thing way down my throat.
Over time I've developed a love of deep throating.
It really turns me on.
They way I pull him in and then constrict my esophagus all around his member, massaging it while it's down inside my throat, makes it get raging hard and large.
It also gives me throat and mouth-gasms.
Another thing that I do that I believe is contributing to the length and width increase is that I use one hand on the bottom of the shaft while I suckle and lick the head.
I squeeze the buried cock deep inside his body, pumping it to get it engorged, while I suck the flange of the head, putting intention on making it as wide as possible.
Over time I've seen both my lovers with whom I've done this very deep, passionate, energetically connected oral sex with increase the size of their penis by 25%.
I'd really appreciate it if you could share your experiences about this with me.
Have you ever been in a situation where you got oral sex so good or so much that it made your penis bigger?
Did it stay that way forever, even if you changed lovers?
Thanks for your feedback on this.
And thanks for letting me share my experiences in hopes it can benefit your life.
Click the link below to download our special guide on "How To Get Your Lover To Suckle Your Penis"