"Taoist Thrusting" – a lovemaking technique that has you pumping in and out in a particular pattern that drives her wild – was one of my big breakthroughs that helped me finally have an orgasm during intercourse.
I was not one of those 30% of women who can come from coitus until we tried this along with our Expanded Orgasm practice.
That's why I have a soft spot in my heart for this Taoist Thrusting technique and the other day I was playing around with hubby — giving him oral because he's been working so hard lately  and deserved a nice blow job — and I decided to try this same stroke technique with my mouth on his penis instead of while he was making love to me.
I DID him.
I stayed in control of the rhythm and he just laid there and received.
He was writhing and moaning in sheer ecstasy from this technique because:
1)He could feel how I was turning myself on using his penis for my own pleasure.
2) He loved the short strokes on the head and the long strokes down his shaft – the variety is particularly delectable for a guy.
3) It's just HOT!
Try giving your lady a Taoist Thrusting lovemaking session and ask her to reciprocate on your member with her mouth.  I just held the base of his penis and did a series of short suckling strokes on the head of his penis alternating with long, deep strokes completely down the length of his shaft.  In Taoist Thrusting, you can count the strokes, but I was so turned on just giving him oral sex that I didn't bother to actually count. I think "close enough" is good when you're fully present to your own and your partner's arousal.  This is "Partner Engagement" style sex.
"She Feels Dirty When I Give Her Oral" <=== More Advice
Let me know how you do and if you have any questions. Share back some twists and swirls that you did to make this even more pleasurable by commenting below.
If you are having any trouble getting your partner to expand beyond their comfort zone, the best advice you can get is within Dr. Patti's Seduction Trilogy. This 3-eBook and audiobook series shows you how to lead your woman to more pleasure with a model you can use not just in the bedroom, but it life to have more fun, pleasure and eroticism.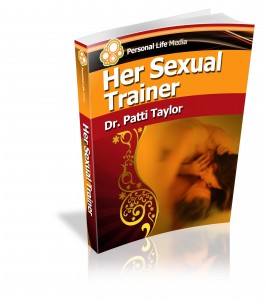 The Seduction Trilogy: Seduce Her Tonight, Seduction Accelerator and Be Her Sexual Trainer (fantasy elicitation).
How to train her in the bedroom. <=== Link Good For 4 Days ONLY
With love,
Sloane Fox