Becoming a master of touch is easy.
There are a few concepts you'll learn and then you will be irresistible.
Touching For Rapture (touching for your own pleasure, instead of touching for effect)
Touching To The Bone (touching deeply rather than on the surface of the skin)
The Four Kinds of Touch (knowing the different styles of touch you can use)
The Magic of "Catch and Release" Touch (a stealthy way to make someone want you more)
The Make Out Massage (a whole body touch that feels incredible)
And so much more.
If you are a cuddle monster who loves the feel of skin on skin, you have come to the right place!
Over the next weeks and months I'll be showing you many different ways you can feel more pleasure and create more pleasure with your lover.
Thanks for joining our Insider's Club. These emails will be free with our compliments so we can earn your trust as a source of quality lovemaking advice.
You'll get to meet each of our four experts, Dr. Patti Taylor, Tallulah Sulis, Sloane Fox and myself, Susan Bratton.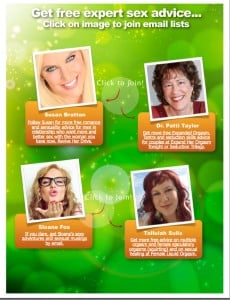 If you reply to our emails, we get them and will email you back.
Here's to more touch and more love!