Squirting Orgasm Audio Interview for Members Only
 Alexa Aimes, adult star and nurse talks to me from her car in LA about her new program, Squirting Orgasm On Command.
She shares with us how she taught herself and then numerous people how to have female ejaculatory orgasms. In her program she inspires people to have fun and enjoy more sex.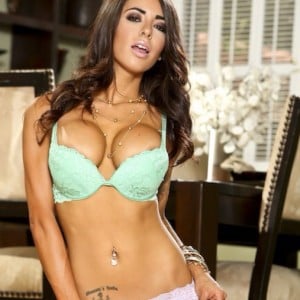 As more and more people are aware that all women can have ejaculatory orgasms, they want to learn how to have or give the experience. Not everyone is born knowing this. That's why it's important to break the myths of what squirting is and how men can be more confident with their sexual skills to lead their woman to her ejaculatory potential. Having "intention" and technique makes all the difference in your success.
That's why Alexa teamed up with Lexi Love to demonstrate not only ejaculatory orgasms, but also all the other kinds of orgasms women can have, including the Forced Orgasm — a fun way to lead a woman to explosive orgasms.
When you understand HOW ejaculatory orgasms work, where all her parts are located and you bring your intention to give her this experience, she knows she is in safe hands and can let go and enjoy herself.
Squirting orgasms are new and exciting. They are nurturing and refreshing. It gets you both so turned on because of the feeling of accomplishment. And seeing the proof — you can't fake a squirt — is thrilling.  Plus when you are getting that G-Area engorged, you are having some really awesome wet sex that is so animalistic and sexy about just letting it all go. It's so intimate compared to just sticking a vibrator on her clit.
The G-Area is known for quick lubrication with foreplay. When you understand how to incorporate the G-Area you can pump up your sex life.  And you're doing your woman a good service as a man when you know how to come her that well.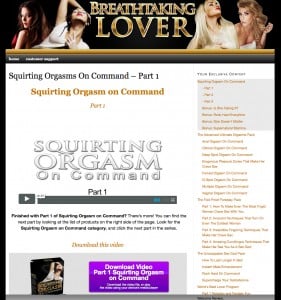 What man doesn't want his woman to crave him all the time? Squirting Orgasm On Command shows you what to do to have your woman want you way more than she does right now.
Susan interviewed Alexa for me and I wanted to make sure you got to listen to this hot and informative audio.
Listen online from your web browser or download it for on the go listening.
Alexa and Lexi did an awesome job demonstrating all kinds of orgasmic techniques. Make sure you go look!

Get our free eBook below to learn more about squirting orgasms!