How To Touch A Woman's Chest During Lovemaking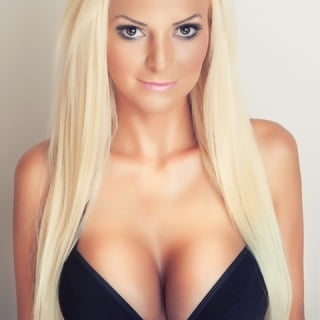 OK, this might work on a small breasted woman. . . You'll have to try it and see.
I only have experience with this on big boobs…
BREAST PLAY IS FUN!
If you've been on our list for even a short time, you are well aware that all of us gals, Dr. Patti, Susan, Tallulah and I encourage you to learn a variety of techniques for pleasuring your lover.
Variety is the spice of life. . .
And it's definitely the spice of the bedroom!
The more you move your hands around and touch your lover all over their body, the more you awaken their neural pleasure pathways.
Many touch techniques equal more kinds of sensation.
THE CUPPING HAND
When playing with a woman's breasts, touch, fondle, squeeze, lick and stimulate not just her nipples, but her ENTIRE breast area.
Include her collarbone, her sternum, under her armpits on her sides and the crease below her breasts as well as the tissue under her nipples in your breast play.
If she has enough breast tissue to cup in your hand, palm her whole breast in one hand.
Do it like you're holding a grapefruit or softball, fingers wrapped on her entire mammary.
Then squeeze.
Start gently, but over time, see if she responds positively to a more firm grasp.
If you kiss her while doing this, it's particularly erotic.
That nice strong pressure combined with the feeling of being held securely can be a real turn on for the ladies.
If she likes the pressure of this cupping hand you can escalate to a breast compression.
TRAINING YOUR PARTNER
The Seduction Trilogy by the amazing Dr. Patti is the program every woman hopes you will buy before your next erotic encounter so she can surrender to her fantasies and desires without having to openly TELL you what they are. You will begin to unearth them safely.
– Find out why she is going to LOVE to be trained by you. . .
– Learn how to get her to want to share with you her most outrageous sexual adventures.
– Begin to train her sexually both without her noticing you're doing it (when that's appropriate), or with her overt agreement (initiating a sexual training program together).
– You'll learn how to recognize what she wants sexually. You will learn how to communicate openly and honestly with her about what pleases both her and you sexually.
– You will know how to help a woman turn herself on, not just how you can help turn her on.
The 3 Secrets of the Sexual Trainer:
Super Secret #1: You are always training her—one way or another
Super Secret #2: Teach her to teach you her deepest desires
Super Secret #3: Novelty is an amazingly potent source of turn on
You have never explored such new areas of sensuality as you do now, integrating fantasies and desires, together, in a safe and consensual pairing of passion and excitement.
When you buy Seduction Trilogy, you can get these three audiobooks I recorded in my sexiest voice for Dr. Patti. . . Along with the three downloadable ebooks.
Read and listen to enjoy multi-modal learning!
Grab your copy NOW and get started training your lover to be incredibly uninhibited with you.
Now on to another technique she may or may not like… You'll be the judge.
BREAST COMPRESSION
This move exerts more pressure and kind of squashes her breast tissue flat — not against her body — instead more like flattening her boob on a table top.
The top and bottom are pushed together and the tissue pushes out on the sides.
Do it lightly at first and see if just holding her breast in this flattened position feels good to her.
Keep holding it and gently move it up and down slowly as you keep it compressed.
Think about the erectile tissue in her nipple being more than on the surface.
Imagine that the nipple is a tube that also goes inside.
By flattening and holding her breast in a compressed manner, you are stimulating internal erectile tissue.
The more erectile tissue you stimulate in her breasts, the more she will want you to play with them.
You can even suck on the pectoral muscles above the bulk of the breast tissue to engorge it as well.
Plumping up her breasts will increase her arousal and enhance her orgasmic pleasure.
Try these two breast play technique and ask her for feedback so you can deliver just the right squeezes and pressure for her maximum enjoyment.
Take time to try this a couple times. The first time you do anything it's so new you really can't tell if it will be a "keeper."
In your quest to grow your sexuality together, patience and feedback are the biggest turn on.
If you'd like to "train" your lover to surrender to your pleasure ride, watch this video:
Train Your Lover Sexually <=== Unleashes Amazing Fantasies
Download this free eBook to learn more how to touch your woman.