Too many bad lays in a row!?!
My girlfriend Jane jokingly says she has, "PTSS" —Post Traumatic Sex Syndrome —from all the crappy sex she has with the guys she dates (once).
Want to have a date that ends in really freaking good sex? Even if you're with a guy who's "rusty" or "unsure?"
Good, because you have that opportunity, and it's free.
That is why I'm sending you a free mp3 download recorded by my girl Susan Bratton, the sex and relationship expert who's always blowing the lid off the mysteries of love and pleasure.
Access this free mp3 from Susan, and you will…
Learn how to set the scene for a "sex date" where you can truly surrender to your pleasure together
Train him to create an environment where you can relax and get off together
Put your pleasure at the top of his to-do list, so he can deliver EXACTLY what you crave that day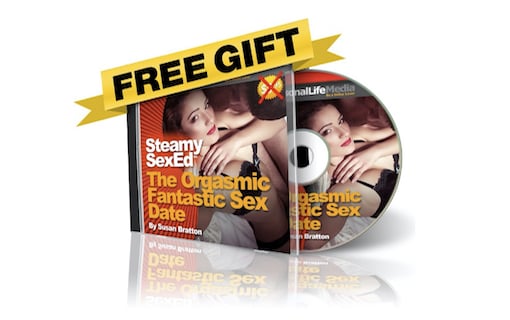 Here you go.
After you listen to this you are going to be able to have more sex, stronger connection, and more fun in bed… even with a guy you just met!
The Big, Steamy Holiday Gift SALE is just around the bend. Sit tight for our biggest, most jaw-dropping sale of the year! The Gift Sale to end all Gift Sales!
The Orgasmic Fantastic Sex Date <== Grab It Now Before It's GONE