The BIG Reason Why Love Isn't Entering Your Life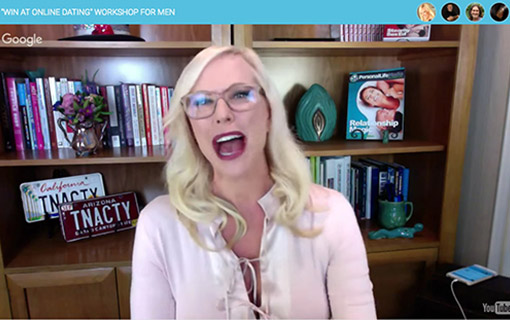 "No horny woman is ever, ever, EVER going to drop into your lap, Jacob." Meet, date and make love to your ideal woman by putting yourself out there and GIVING love.
If you can't seem to find the right person to welcome into your life…
Maybe it's because there aren't any options (that you like) near you…
And all the ones you DO like are already taken…
Don't worry. You're not alone.
A lot of men and women are seeking love just like you.
However, what's stopping them isn't the lack of options for a partner, or their own lack of physical attraction qualities (it's rarely ever about looks!), but that they're not FULLY inviting love into their lives.
Most singles are trying to invite love, but they're not doing what's necessary for love to come flooding right in.
You see, for love to come into your life, you also have to GIVE love.
For example, a reader emailed me that he will have to put his love life on the back-burner because all the good women he likes are already taken.
Here's what he said (and my advice to him) below:
Meet The Lover You've Been Waiting And Searching For <=== So Many Good Ones Are Looking For You Too (Watch Instantly)
YOUR LOVER IS WAITING FOR YOU
————————
"Every woman seems to be in a relationship with a partner, so I will have to defer things until a horny female becomes available"

– Jacob (not his real name)
————————
This is a limiting belief, Jacob.
There are tons of women out there hoping to find a great guy to love them.
But you are not seeing them because your heart's not open.
My suggestion is to dish love out each day as it comes back to you naturally…
Love your waitress, love the grocery clerk — men and women. Start getting your heart muscle working…
And get yourself an online profile on Match.com or OK Cupid.
No, it is NOT EASY for a guy to attract a woman online.
But guys do find wonderful women online.
Because they are putting a profile there.
The guys with no profile NEVER get a woman by simply just showing up and writing a decent profile.
Finding a woman online is easier than just hoping a woman will walk by you, you finding her attractive, going up and talking to her and getting her number.
Approaching women is FRICKING HARD!
So watch this webinar I did with Scot McKay, Creator of Online Dating Domination, where he explains how you write an online profile that actually gets the kind of woman YOU want to contact you.
My Interview With Scot McKay <=== WATCH INSTANTLY! How To Meet Women Online And Turn Them Into Real Dates, Real Relationships (And Even Some Real Fine Sex)
It's a clever way to actually find a woman who suits you. This is why I spent the time to do a webinar with him… because he has helped a lot of men get married or remarried using this online dating profile strategy.
Because after a decade of working with guys, I know how cranky and frustrated you get when you're not enjoying regular, hot sex.
Sometimes guys get so depressed not having a woman to love and care for that they FORGET that women need to be pursued, desired and seduced.
No horny woman is ever, ever, EVER going to drop into your lap, Jacob.
You must make yourself available.
And the fastest, lowest risk way to attract a woman is to follow Scot McKay's advice and write an online dating profile like he shows you.
Watch My Interview With Scot McKay <== Meet And Date New Women – WATCH NOW
Please send me your wedding pics.