How To Find The Right Man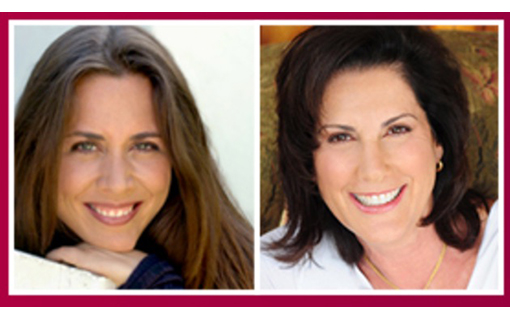 Why your "love wishlist" is blocking your soulmate from finding you…
Even if you've almost given up looking for love, sign up for this amazing webinar.
This is what you need to find a beautiful, conscious, deep, and loving relationship that's just around the corner.
My girlfriends are at it again!
Claire Zammit, founder of Feminine Power, and Arielle Ford, founder of Art of Love, are coming together for a FREE Live Workshop exclusively for women.
I call Arielle my, "fairy godmother."  She is the woman who encouraged me to write my Amazone #1 best-seller, Sexual Soulmates.
Arielle and Claire have put together a new, free workshop called, "6 Love Codes" to attract the love of your life. The love you deserve. And the love that's waiting for you.
This call-in is free. It's live. And if you want to attract your soulmate, sign up!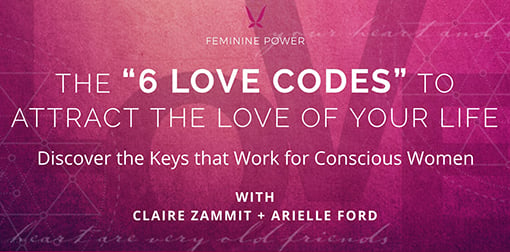 LOVE IS RIGHT AROUND THE CORNER
Sweetie, the thing about love is…
Most people only know how to "speak their own language."
So when a woman meets a man, the connection they both doesn't take place right away.
She's speaking her own love language.
And he's speaking his own love language.
Claire and Arielle know how to get your mind functioning in a way that ATTRACTS, rather than repels men.
So you can speak his love language.
And he can reciprocate… and learn to speak YOUR love language as well.
It's time to find your soulmate.
And no, I don't think there's ONE guy out there who is your actual soulmate.
The secret truth is ANY guy can be your perfect soulmate. You just have to allow, enable, and empower each other to be soulmates.
Soulmates are co-created.
But you have to be ready, open, and willing for one to find you. And that's what Arielle can show you how to do.
Here's what you'll discover during the workshop:
The

4 mistakes

keeping women single and alone (and how to AVOID them…)
Why

your "love wishlist" is blocking

your soulmate from finding you…
The fastest way to identify and break down blocks and barriers—many of which

may be repelling men

and marriage away without you even realizing it—and receive love.
The 3-step process to

raise your "love vibration"

 and why this is the key to becoming magnetic to the right partner.
The #1 shift you can make to

feel powerful and feminine

without needing to dim down your light to attract a partner who celebrates your brilliance
The step most women fail to take (or complete) that will lead to a

100% success rate

in meeting your beloved life-partner
Even if you think you're too late for love.
Or if you think all the good guys are already taken.
Or if you're too worried and afraid to get hurt again.
Even if you think you're not attractive enough.
Love is waiting for you right around the corner.
It only takes a little belief and love in yourself.
⇐
Attract The Love Of Your Life
"Thanks to Claire and Arielle not only have I found 'a man,' I found The Man. I'm head-over-heels, flat-on-my-face, jaw-on-the-floor drooling in love with the most intelligent, handsome, psychologically stimulating, intellectually challenging, sexiest man I could ever dream of…"

—Diely, Florida

"As a result of what I learned from Arielle and Claire, I just got engaged last night to the wonderful man I attracted into my life! Your insights and wisdom made a huge difference. It worked! I am grateful!"

—Barbara, Boca Raton

"Arielle and Claire… I can't believe you gave away all this information for free. I have learned more in this seminar I spent with you taking notes than so many programs I've paid hundreds (and even thousands) of dollars for in the past several years!"

—Pia, Amsterdam

"Thank you Arielle and Claire; I so appreciate you… This was amazing, fantastic, insightful, and soooo helpful!!! I am so grateful for this information and energy and support. Thank you for what you do for others."

—MJ, New York