Meet The Luckiest Man Alive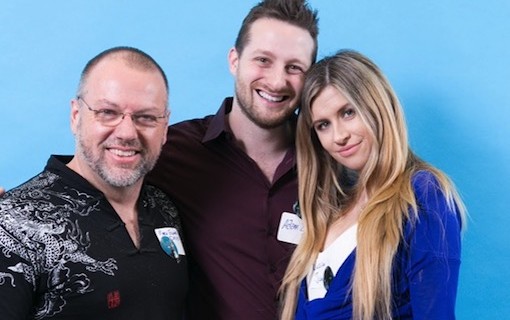 I want to tell you about my friend Adam Lyons. He's been helping men meet, date, and have amazing relationships with women for over 10 years.
Not just that, he's also the guy who's living with 2 women at the same time. Some call him "the luckiest man alive."  In this picture below, Adam is in the middle with one of his two wives. She is a gorgeous Russian beauty.
I know both Adam's wives and they are so lovely. It's such a small world too, because that guy on the left in the picture below  is Mark Edward Davis, the owner of Dream Connections —the leading international matchmaking company that I'm doing a live online workshop with in September.
You see we are all friends who have been drawn together because we help men find their precious ladies in one way or another.
Adam is holding a 2-day LIVE Event on the 7th to the 8th of October.  If you are single and willing to go to Los Angeles to learn how to be a BadAss with Women, DO IT!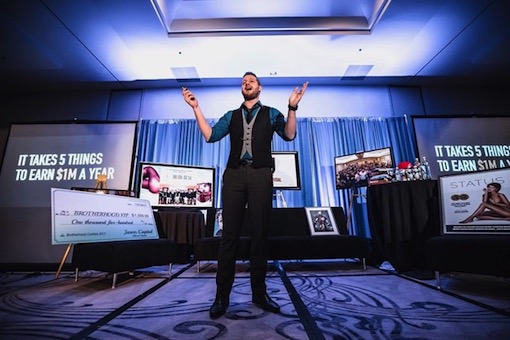 Adam has the most charismatic personality. He knows all about attraction and seduction. And he's having a live event that would really make you feel like you have the right direction to find the woman of your dreams.
On this event, he'll share with you how to create an attractive lifestyle that effortlessly draws women into your life without having to use "creepy pickup lines."
Adam has a fantastic reputation of giving amazing value during his events. Most of them costing more than $2000 per head.
And he told me earlier today this event is ONLY for his most loyal followers.
However, since Adam is a dear friend of mine, I asked him to have some of my guys over at a discount, at my expense.
So I'm inviting you to join Adam's 2-day LIVE event in LA with a 70% discount.
I want YOU to join this event, if you think you need help with attracting gorgeous, fulfilling women into your life.
I pulled some strings to get my fans to have this opportunity. So if you're a single guy looking for a quality woman, and you think you're missing that "edge" you need to make it happen, you'll love being a part of this event.
⇐ Adam Lyons' LIVE Event At 70% OFF