Men's Boot Camp For Sexual Confidence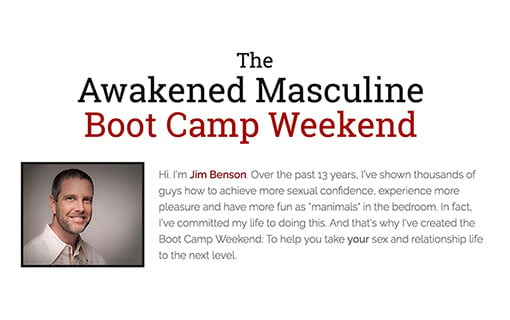 If you're looking to create more pleasure, passion and presence in bed, I highly recommend my good friend Jim Benson's "Awakened Masculine Boot Camp Weekend."
As you might know from watching the videos he and I have starred in over the years, Jim has been leading sexuality and relationships groups internationally for the past 13 years. He has put all of his wisdom and best practices into this Boot Camp to help guys really enjoy themselves as "manimals" in the bedroom.
Supercharge your inner "Masculine Alpha"
Jim's Boot Camp is for you if:
You no longer want to tolerate a less-than-satisfying sex life

You want to gain more sexual confidence as an "Alpha Lover"

You're ready to be free of shame, performance anxiety, old damaging sexual habits and compulsive behavior

You're ready to have the sex and relationship life you've always longed for
This 3-day weekend is geared towards men who are ready to dive into a body of men's work that is challenging, compassionate, and liberating.
Change the way you have sex, and you can change your entire life.
Jim has the highest integrity, skill, humor and vulnerability in the sex and relationship arena. You know that in this world that's no small feat! I urge you to experience him for yourself during this life-changing weekend.
The Boot Camp Weekend is being held at EarthRise, a gorgeous retreat center just north of San Francisco. Jim made a brilliant choice to invite men to come to a relaxing setting, enabling them to truly take a break from their everyday lives. The food is awesome. The landscape is truly inspiring. No hustle and bustle for 3 days. Even if you don't live in the SF Bay Area, it's an easy trip from the airport.
If you want to radically improve your life and become an Awakened Man, being a part of this event is something you will not regret.
Here's to an alive, empowered, sexually awakened YOU.
Jim's Early Bird pricing for the weekend ends soon, so if you're interested, reigster now to take advantage!
⇐ Change Your Life And Become An Awakened Man